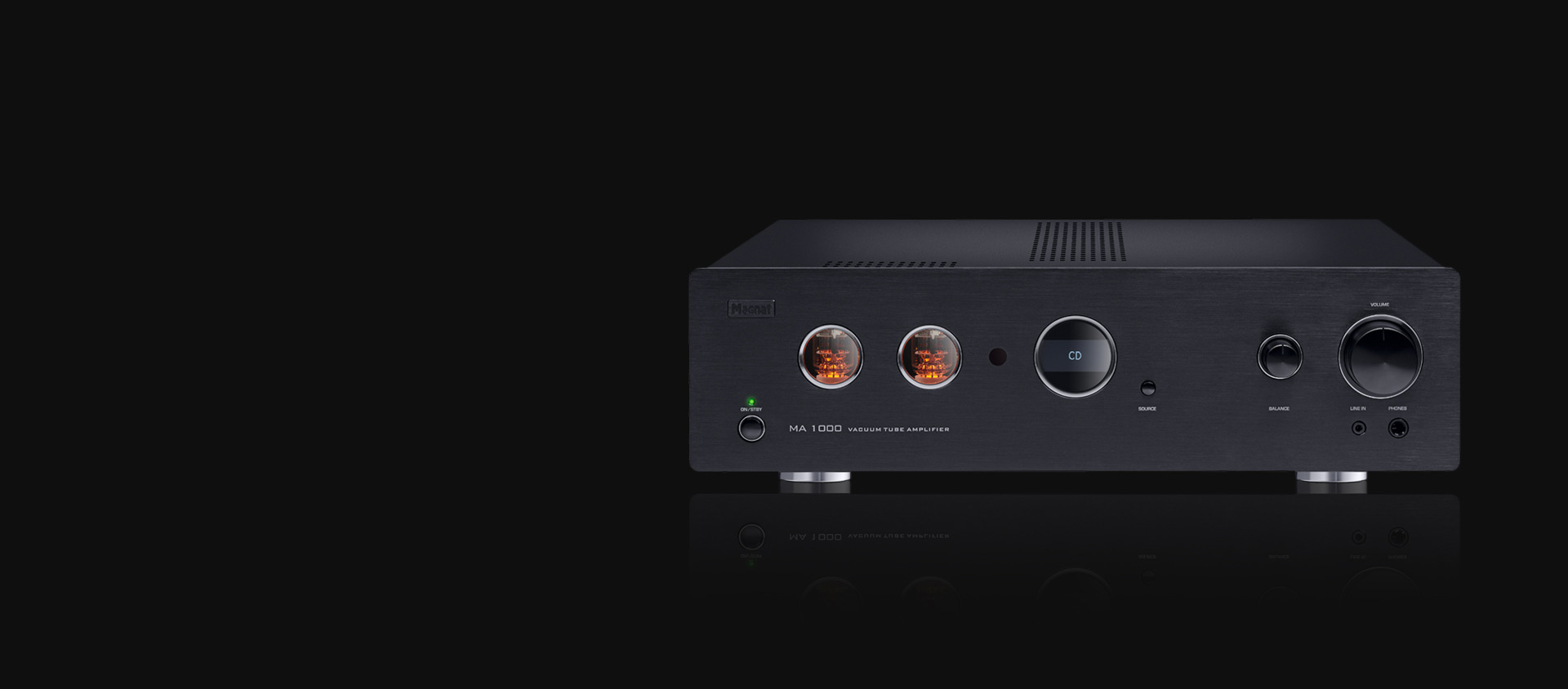 Design and functionality
Embedded in the aluminium front panel of the MA 1000 is the organic LED display – high resolution and high contrast at the same time, it not only enhances readability substantially; it also adds a stylish visual highlight. The controls are likewise made of solid aluminium, with high-quality ALPS motor potentiometers performing their work behind the volume controls.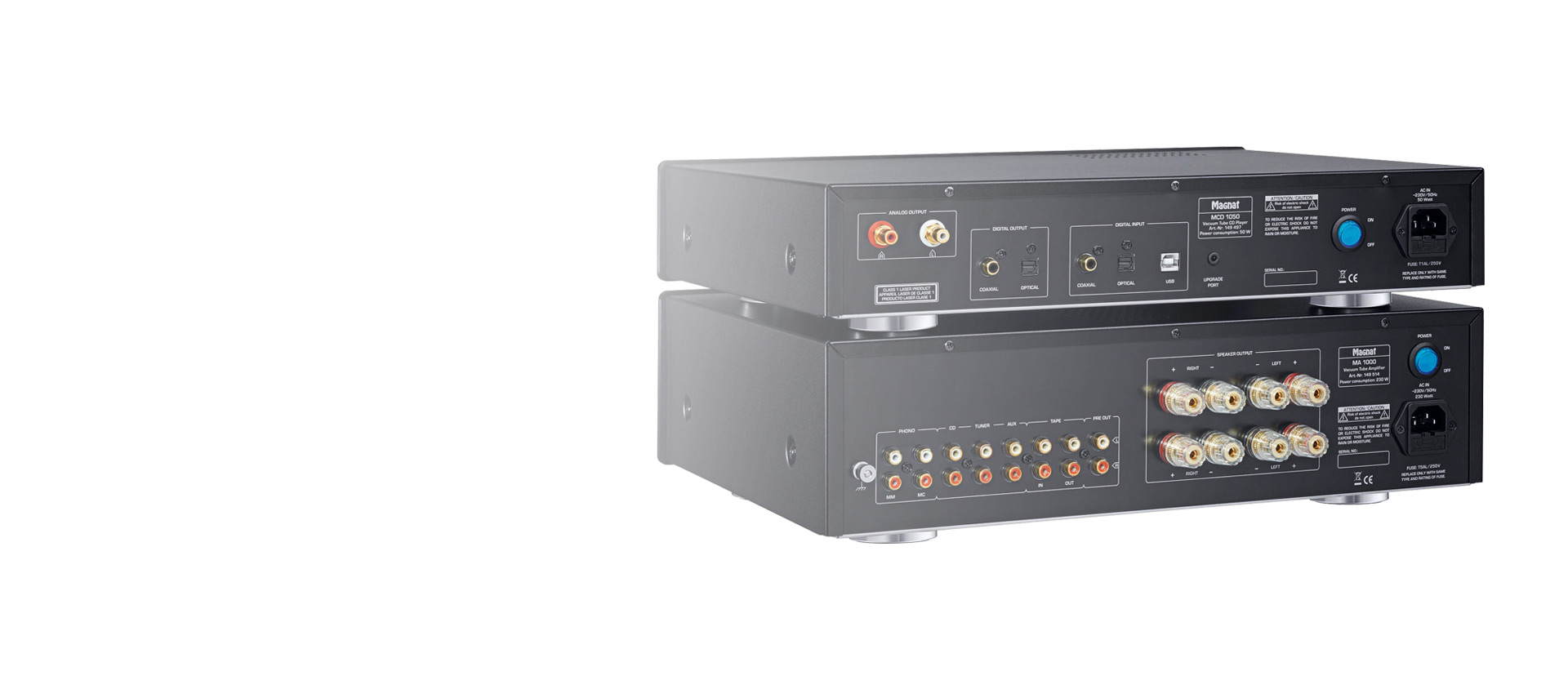 Various connection options are provided for
The MA 1000 has four high-level inputs and a phono input that can be switched between MM and MC. A 3.5 mm jack input is also provided at the front to connect portable devices.
Technical specifications
---
Power consumption
Max 420 W
Standby < 0,5 W
Peak
Frequency response
CD/Tuner/Aux/Line/Tape:
5 Hz – 100 kHz (-3,0 dB)
CD/Tuner/Aux/Line/Tape:
20 Hz – 20 kHz (+/-0,1 dB)
hono: 20 Hz – 20 kHz (+/-0,3 dB)
hono Subsonic Filter: 16 Hz, 18 dB/Oct.
Output power / Nominal
20 Hz – 20 kHz, THD < 1.0%
4 Ohm, 2 x 115 W
8 Ohm, 2 x 80 W
Input sensivity
Phono MM: 2,5mV/47kΩ
CD/Tuner/Aux/Line/Tape: 400mV/100kΩ
Phono MC: 0,3mV/470Ω
Mains voltage
S/N ratio
Phono MM: 89 dB (A)
Phono MC: 77 dB (A)
CD/Tuner/Aux/Line/Tape: 110 dB (A)
Color
Dimensions (WxHxD)
434 x 125 x 330 mm (380 mm incl. controls and connectors)
Remote control: 47 x 193 x 23 mm
Weight
Highlights
---
Amplifier and power supply
Output rating of 115 watts of sine power per channel (4 ohms)
Generously dimensioned toroidal transformer
Filter/electrolytic capacitors with a particularly large capacity (4 x 10000 µF)
Discrete high-performance amplifier with high quality power transistors from Toshiba
High-performance power supply with separately stabilised

supply voltages for the different tubes and circuits
Highlights
High-contrast, state-of-the-art "Organic LED" display
Separate standby power supply for low power consumption in standby mode
Elegant full-metal system remote for controlling
Connections
4 high-level inputs
Additional 3.5 mm audio input on the front panel for connecting portable devices
Phono MM and MC inputs
Record Out fixed level output
Preamplifier output for connecting subwoofers or additional power amplifiers
Bi-wiring output terminal with large, insulated speaker terminals
Headphone output with high quality 6.3 mm jack
Preamplifier
Preselected and burned-in (60 hours) tubes produced in Russia
High quality tube sockets with gold-plated contacts
Phono preamplifier with separate MM / MC inputs, low-noise operational amplifiers and subsonic filters
Volume control via high-precision motorised potentiometer from ALPS
Input signal switching via high quality reed relays
Low-loss WIMA audio capacitors in the signal path
Low-noise tube amplifier with 2 x 12AU7 / ECC 82 tubes
Cabinet
Solid aluminium control elements
Sturdy solid metal housing with 8 mm front panel
Cabinet surface
Evaluations
---
Customer evaluation for "High-End-Hybrid-Vollverstärker mit Röhrenvorstufe"
Evaluations will be activated after verification.