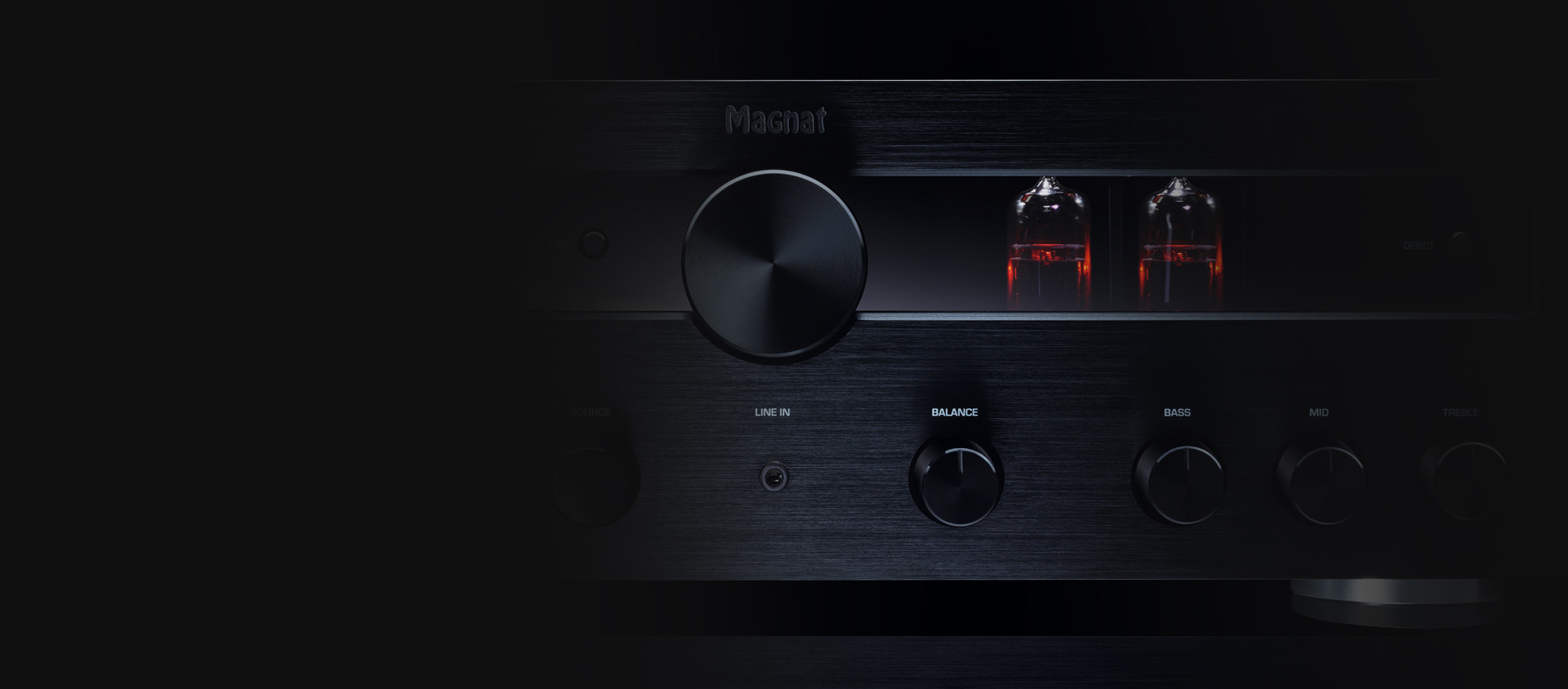 Audiophile sound thanks to the tube pre-amp stage
The MR 780 follows the unique Magnat hybrid concept. The pre-amp stage is taken care of by two selected ECC 81 tubes that give the entire system that well-known warm and audiophile tube sound. In addition, the powerful, discretely designed transistor power amp delivers 100 watts RMS power per channel at 4 ohms.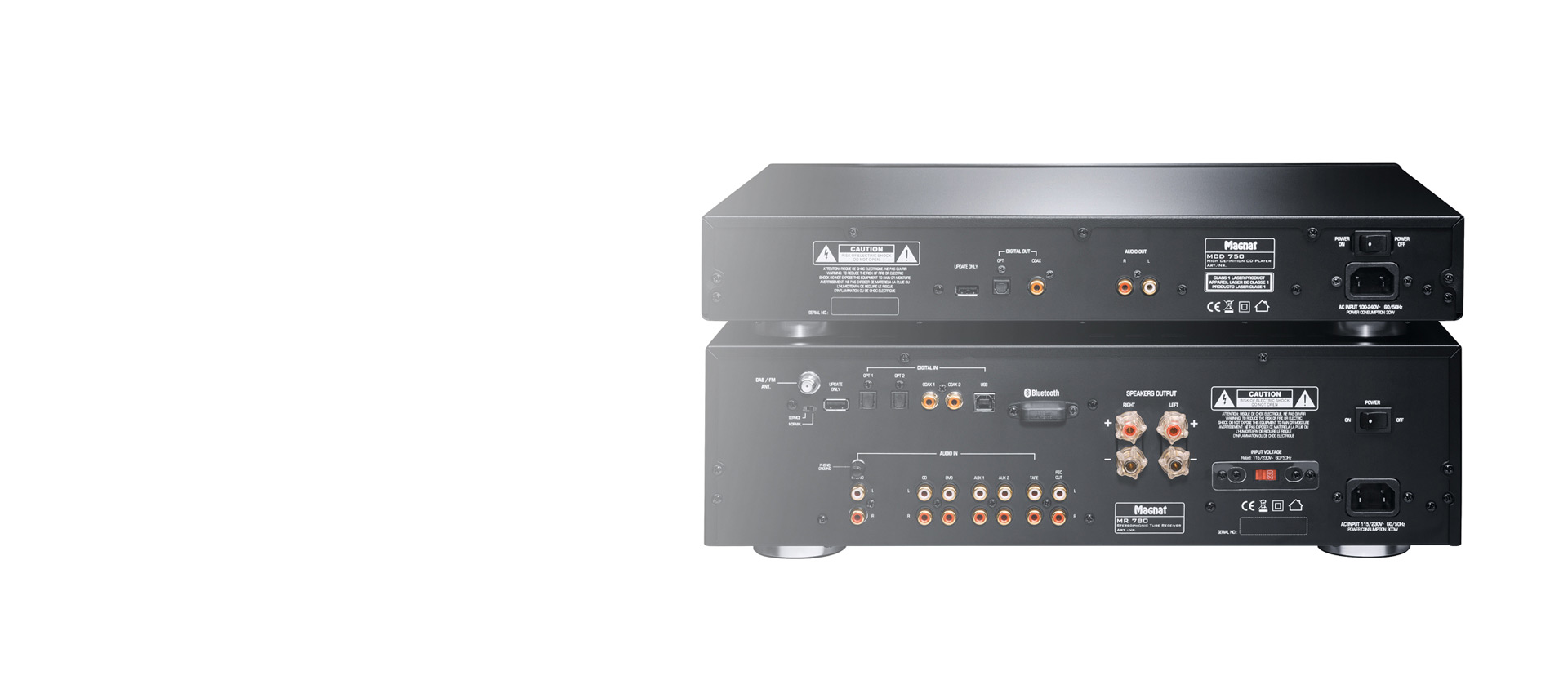 Highest flexibility through a huge variety of connection options
The MR 780 receives signals via five high-level inputs or two optical and two coaxial digital inputs. A 3.5 mm jack input is also available as well as wireless connectivity via Bluetooth 4.0, including aptX. The wide range of connectivity options is rounded off by a particularly high-quality phono pre-amp as well as a USB audio 2.0 input.
Technical specifications
---
Frekvenčná odozva
CD/Tuner/Aux/Line/Tape: 6 Hz – 90 kHz (-3,0 dB)
20 Hz – 20 kHz (+/-0,3 dB)
Phono: 20 Hz – 20 kHz (+/-0,8 dB)
Subsonic Filter : 16 Hz, 18 dB/Oct.
Vrchol
Spotreba energie
Pohotovostný režim < 0,5 W
Max 300 W
Výstupný výkon / nominálny
20 Hz – 20 kHz, THD < 1.0%, 4 Ohm, 2 x 100 W
20 Hz – 20 kHz, THD < 1.0%, 8 Ohm, 2 x 75 W
Vstupná citlivosť
CD/Tuner/Aux/Line/Tape: 470 mV/100 kΩ
Phono MM: 5 mV/47 kΩ
Digitálne vstupy
Podporovaná vzorkovacia frekvencia: 44,1/48/88,2/96/176,4/192kHz
Podporovaná bitová hĺbka: 16/24bit
USB 2.0, konektor typu B
1. optical (Toslink™)
2. coaxial (cinch)
BLUETOOTH® VSTUP
Bluetooth® 4.0 / Qualcomm® aptX™
Odstup signálu od šumu
CD/Tuner/Aux/Line/Tape: 104 dB (A)
Phono MM: 82 dB (A)
Rozmery (ŠxVxH)
433 x 132 x 317 mm (360 mm incl. controls and connectors)
Remote control: 45 x 175 x 20 mm
Farba
Hmotnosť
Highlights
---
Digitálne vstupy
Podporovaná vzorkovacia frekvencia: 44,1/48/88,2/96/176,4/192kHz
Podporovaná bitová hĺbka: 16/24bit
USB 2.0, konektor typu B
1. optical (Toslink™)
2. coaxial (cinch)
Zosilňovač a napájania
Discrete high-performance amplifier
Output power: 100 watts of sine power per channel (4 ohms)
High-capacity filter/electrolytic capacitors
Shielded toroidal transformer
Vypracovaný sieťový adaptér s oddelene stabilizovaným napájacím napätím pre jednotlivé okruhy
Samostatné pohotovostné napájanie pre nízku spotrebu energie v pohotovostnom režime
BLUETOOTH® VSTUP
Bluetooth® 4.0 / Qualcomm® aptX™
Zvýraznenia
Readable, two-line clear text display with adjustable brightness (3 stages)
Systém diaľkového ovládania pre všetky funkcie
Pripojenia
Record Out fixed level output
Výstup pre slúchadlá s vysokokvalitným 6,3 mm jackom
Predzosilňovač
Additional 3.5 mm audio input on the front panel for connecting portable devices
Low-noise tube preamplifier with 2 x ECC 81 tubes
Preselected and burned-in tubes
Digital inputs (2 x optical and 2 x coaxial) for sampling frequencies up to 192kHz/24bits
USB Audio 2.0 input supports sampling frequencies up to 192kHz/24bits
Bluetooth® input (4.0) supports the high-end audio standard Qualcomm® aptX™
Wolfson digital-to-analogue converter
MM-phono preamplifier with low-noise operational amplifiers and subsonic filters
Telo reproduktoru
Sturdy full-metal enclosure with solid, brushed aluminium front
Stable feet with damping rubber insert
Pevné hliníkové ovládacie prvky