---
MR 750
Stereo high-end hybrid receiver
Stereo hybrid receiver with transistor and tube technology
HDMI input for seamless integration of TV and all connected sources
Selected and previously burned-in tubes for optimum sound
2 x 70 watts RMS output, 250 watts system output
Extensive connections, digital, analogue, MM phono and Bluetooth aptX
Solid metal housing with brushed aluminum front panel and controls
Stereo high-end hybrid receiver
The MR 750 finally opens up the combination of tube and transistor technology to all conceivable media. Here you can finally find an all-in-one solution for fans of classic 43 cm components, which can be perfectly combined with Magnat hi-fi components.


Sensitivity and power

With carefully selected ECC 88 tubes already burned in, the MR 750 delivers exactly the sound that connoisseurs appreciate. Thanks to the downstream power transistors, you don't have to do without an impressive output line.

Five analogue high-level inputs, 4 digital inputs plus a phono input for MM systems are the basis for also being able to connect large systems without any difficulty. On top of this, Bluetooth is included with the lossless aptX standard for the best sound from smartphone, tablet or computer. The tuner with FM and DAB+ opens up a whole variety of analogue and digital stations to fans, who can store them on up to 40 station memory locations.


Magnat MR 750 - HDMI and Bluetooth on board

The number of exciting sources for music and sound is growing constantly. You are well equipped for this with the MR 750 because, in addition to a wide range of analogue and digital, it also enables the direct connection of turntables, communicates with smartphones and tablets via Bluetooth and creates a seamless connection to the TV set and all connected sources via HDMI. With the latter, the volume can be easily adjusted using the television's remote control. For all other sources, this is done using the system remote control provided.


Discreetly informed

A metal housing and a solid aluminum front panel and controls speak for themselves every time you touch them and give you a feel for what acoustic delights the MR 750 has to offer. The elegant display announces input sources and station names. Apart from that, simply let yourself be captivated by the irresistible glow of the tubes, while enjoying music, films and other media from almost any source in previously unimaginable quality.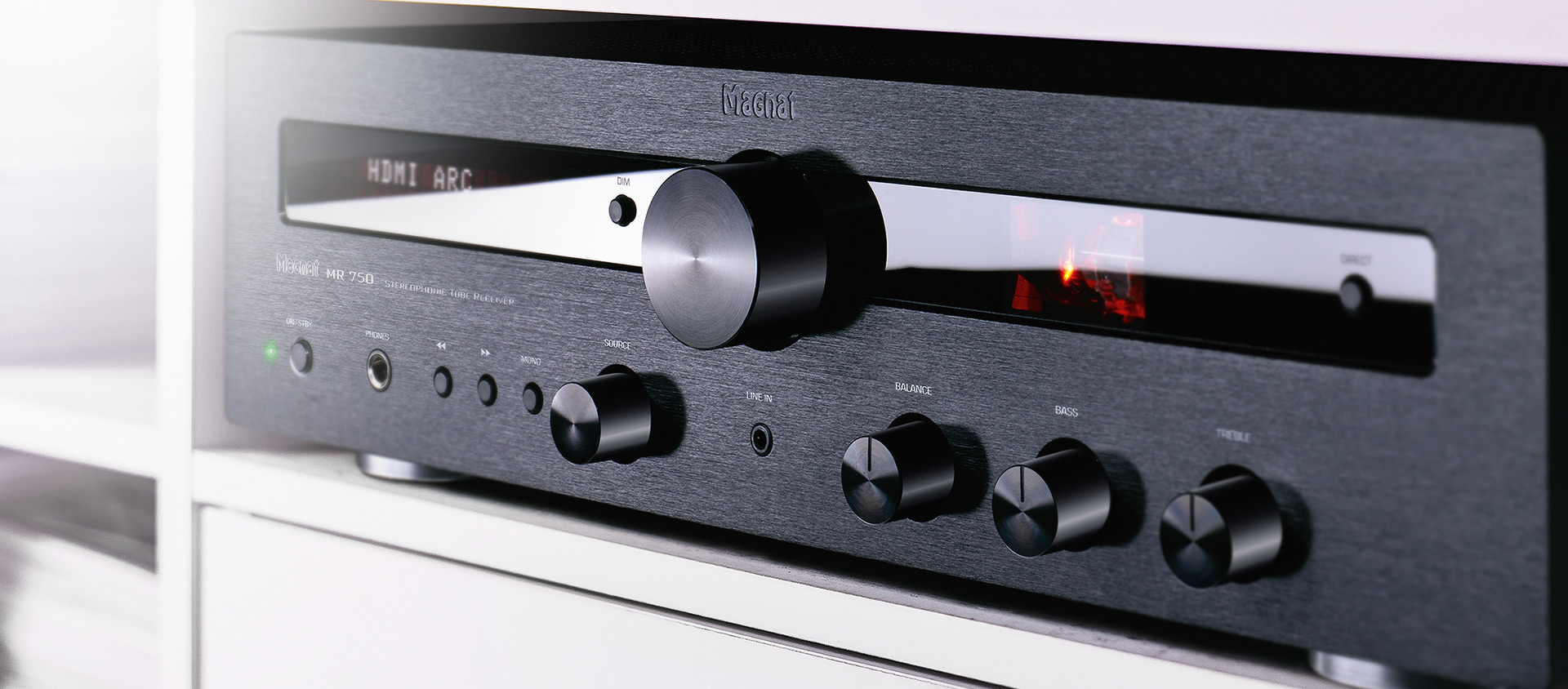 Technical specifications
---
Digitálne vstupy
Podporovaná bitová hĺbka: 16/24bit
Podporovaná vzorkovacia frekvencia: 44,1/48/88,2/96/176,4/192kHz
koaxiál (cinch)
optický (Toslink™)
BLUETOOTH® VSTUP
Bluetooth® streaming (5.0) with the high-end audio standard Qualcomm® aptX™
Sieťové napätie
Highlights
---
Digitálne vstupy
Podporovaná bitová hĺbka: 16/24bit
Podporovaná vzorkovacia frekvencia: 44,1/48/88,2/96/176,4/192kHz
koaxiál (cinch)
optický (Toslink™)
Zosilňovač a napájania
Standby power supply for low power consumption in standby mode
Discrete Class A/B power amplifier
Shielded toroidal transformer
Standby power supply for low power consumption in standby mode < 0,5 watts
Elaborate mains adapter with separately stabilised supply voltage for the individual circuits
High-capacity filter/electrolytic capacitors
BLUETOOTH® VSTUP
Bluetooth® streaming (5.0) with the high-end audio standard Qualcomm® aptX™
FM/DAB-Tuner
FM tuner
Digitálny DAB/DAB+ tuner
Automatická skenovacia funkcia (FM)
RDS/radio text funkcia
Pamäť pre 40 DAB/DAB+ a FM staníc
Vyhľadávanie staníc (DAB)
Zvýraznenia
System remote control for all functions
Headphone output with high-quality 6.3 mm jack socket
Speaker terminal with solid, insulated screw terminals that are capable of accommodating large cable cross-sections
Solid aluminium controls
Stable feet with damping rubber insert
Sturdy full-metal enclosure with solid, brushed aluminium front
Readable, two-line clear text display with adjustable brightness (3 stages)
Predzosilňovač
Preselected and burned-in tubes
Additional 3.5 mm audio input on the front panel for connecting portable devices
MM-phono preamplifier with low-noise operational amplifiers and subsonic filters