---
MC 400
Compact high-end stereo NETWORK/CD/DAB/FM receiver
Fully equipped Internet CD receiver
FM, DAB+, CD, Phono MM, HDMI, Bluetooth, streaming services, multiroom
Best network capabilities thanks to Ethernet and Wifi
Hi-Res Audio certified electronics for highest sound quality
Bipolar configured power transistors with up to 100 watts peak power per channel
Spotify Connect as well as other streaming services controllable via Magnat app
2.8-inch TFT display for showing cover art
Compact high-end stereo NETWORK/CD/DAB/FM receiver
The MC 400 offers all the sources a music fan could wish for. From classics like vinyl and FM to CD, DAB+, Bluetooth and HDMI, most streaming services and Hi-Res audio from the local network. The question here is not whether you can listen to your desired source, but which one you want to listen to at the present moment.

Operation is child's play thanks to the 2.8-inch, brilliant TFT display on the front. In addition, there is a remote control and the option of comprehensive control with our own Magnat app for iOS and Android. With this, streaming services and multi-room functions can be used with ease.

The MC 400 can do everything, and in the best quality - this is guaranteed not only by the selected components inside, but also by our decades of know-how. All this is packed into an impressively solid cabinet in the classic hi-fi size of 43 cm.

Test reviews
What do trade magazines say about this product?
Technical specifications
---
Spotreba energie
Vstupná citlivosť
Aux/Line 500 mV/100 kΩ
Phono MM: 5 mV/47 kΩ
Digitálne vstupy
Podporovaná bitová hĺbka: 16/24bit
Podporovaná vzorkovacia frekvencia: 44,1/48/88,2/96/176,4/192kHz
koaxiál (cinch)
optický (Toslink™)
1 x USB A Ver. 1.1, 5V/DC 1000mA; up to 8 GB FAT 16/32
1 x HDMI Ver. 1.4 (PCM)
BLUETOOTH® VSTUP
Bluetooth® streaming (5.0) with the high-end audio standard Qualcomm® aptX™
Odstup signálu od šumu
CD/Streamer/Aux/Line: 98 dB (A)
Phono (MM): 82 dB (A)
Rozmery (ŠxVxH)
Remote Control: 45 x 175 x 20 mm
Main unit: 433 x 115 x 301 mm
Incl. controls and connectors: 433 x 115 x 346 mm
Farba
Hmotnosť
Highlights
---
Princíp
Compact high-end stereo NETWORK/CD/DAB/FM receiver with a max. power output of 200 watts in Hi-Res quality
CD prehrávač
Title programming (up to 99 titles)
CD audio, MP3 and WMA playback
Supports CD text and ID3 tag
Repeat function (title/CD)
Random function
SIEŤOVÉ FUNKCIE
Internetové rádio
Vlastná MAGNAT STREAMING APP pre pohodlné ovládanie
DLNA audio streaming
Multiroom funkcionalita
Zosilňovač a napájania
Bluetooth® input (5.0) supports the high-end audio standard Qualcomm® aptX™ HD
Output rating of 60 watts of sine power per channel (4 ohms)
Shielded toroidal transformer
Two analogue high-level inputs
Additional 3.5 mm audio input on the front panel for connecting portable devices
Digital inputs (1 x optical and 1 x coaxial) for sampling frequencies up to 192kHz/24bits, Hi-Res certified
Elaborate mains adapter
Standby power supply for low power consumption in standby mode
BLUETOOTH® VSTUP
Bluetooth® streaming (5.0) with the high-end audio standard Qualcomm® aptX™
FM/DAB-Tuner
Automatická skenovacia funkcia (FM)
Vyhľadávanie staníc (DAB)
FM tuner
RDS/radio text funkcia
Pamäť pre 40 DAB/DAB+ a FM staníc
Digitálny DAB/DAB+ tuner
Telo reproduktoru
Sturdy full-metal enclosure with solid, brushed aluminium front
Stable feet with damping rubber insert
Pevné hliníkové ovládacie prvky
Easy-to-read colour monitor with 320 x 240 pixels full colour 24 bit
Bewertungen
---
Kundenbewertungen für "Stereo Netzwerk/CD/DAB/FM-Receiver mit 200 Watt Maximal-Ausgangsleistung in Hi-Res Qualität"
Bewertungen werden nach Überprüfung freigeschaltet.
Other products
You may also be interested in these products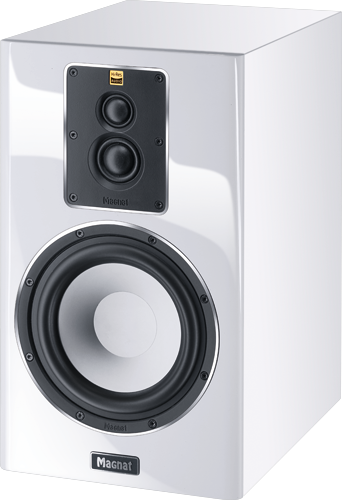 Hi-Res certified dual tweeter module with two fmax domes
3-way speaker with bass reflex technology
Bass-midrange driver with ceramic/aluminum cone
Finish: White or black with a high-gloss baffle and satin cabinet