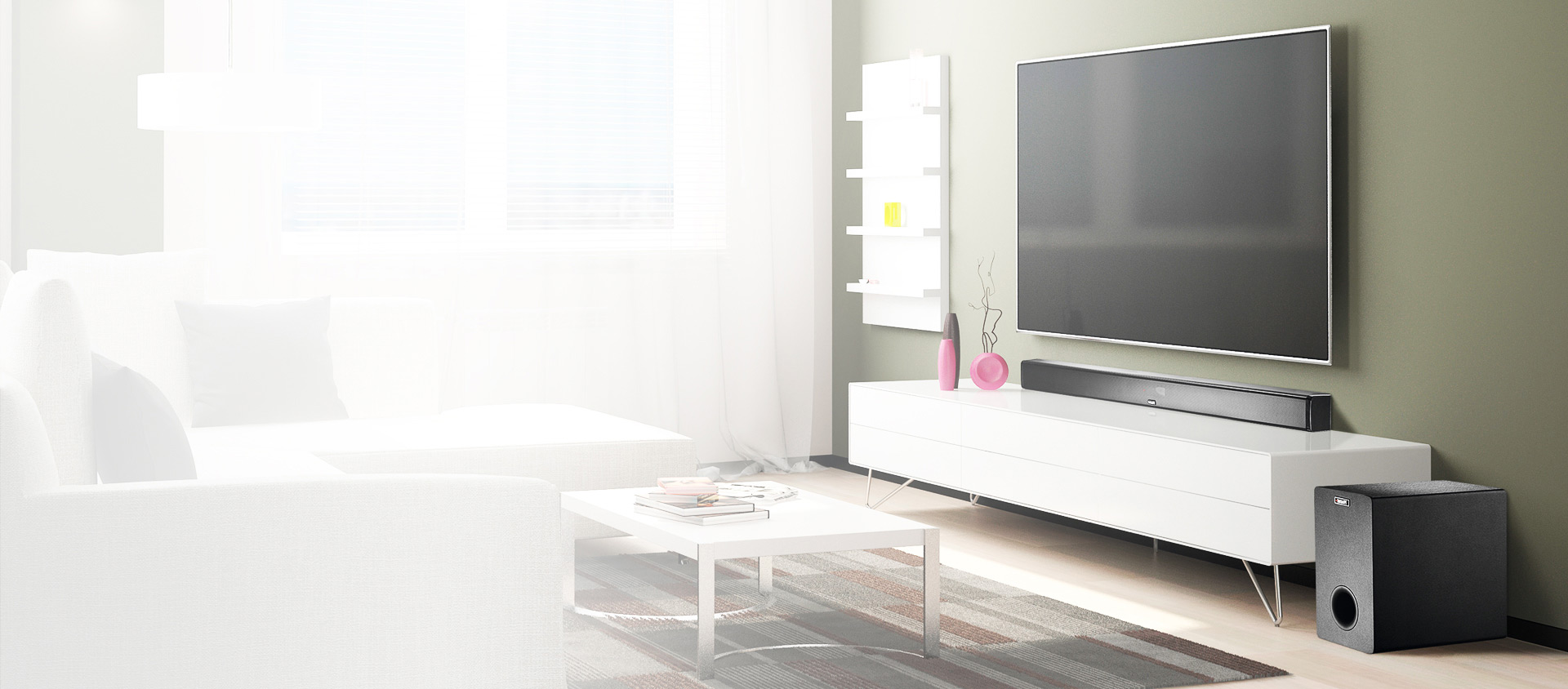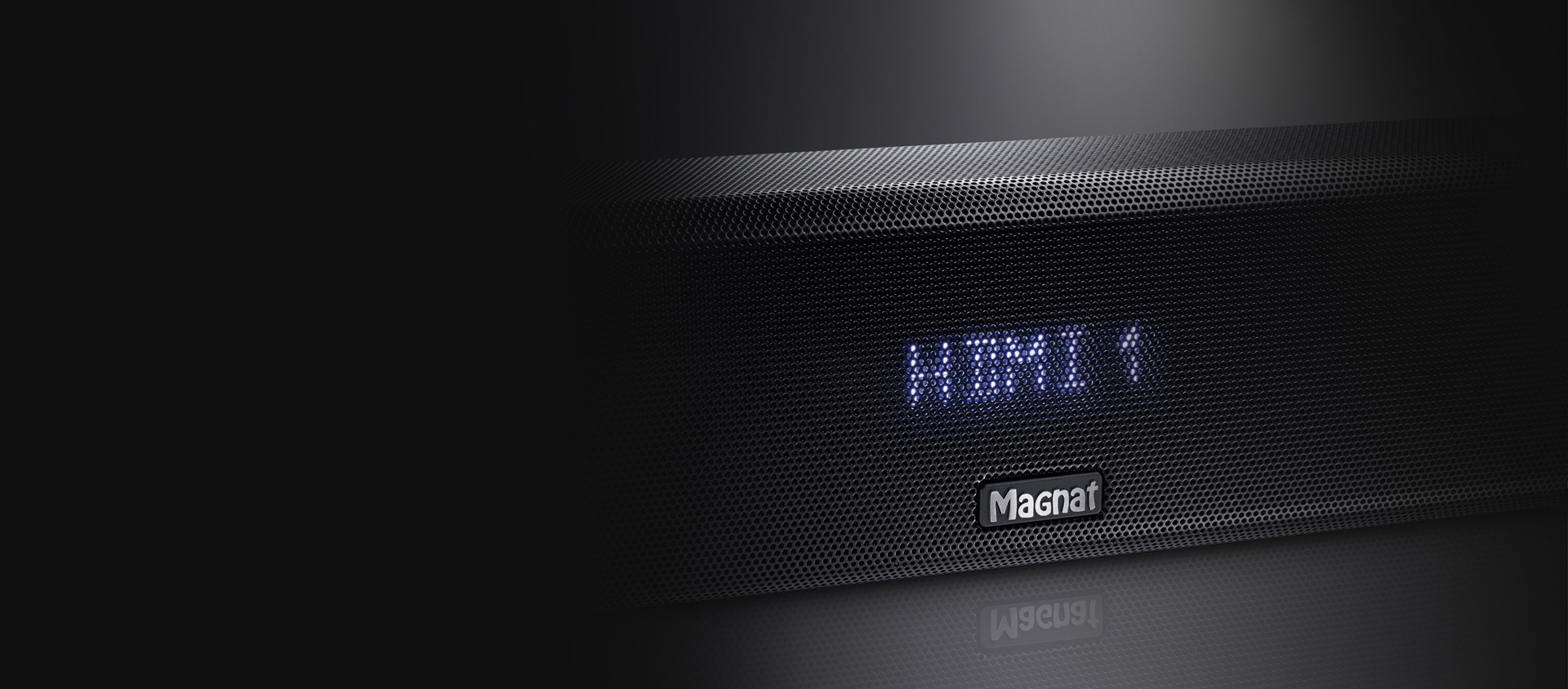 Perfectly integrated LED display
The LED display for the status indicator is located unobtrusively behind the soundbar speaker grille. The easy-to-read display shows the user the signal source that has been selected.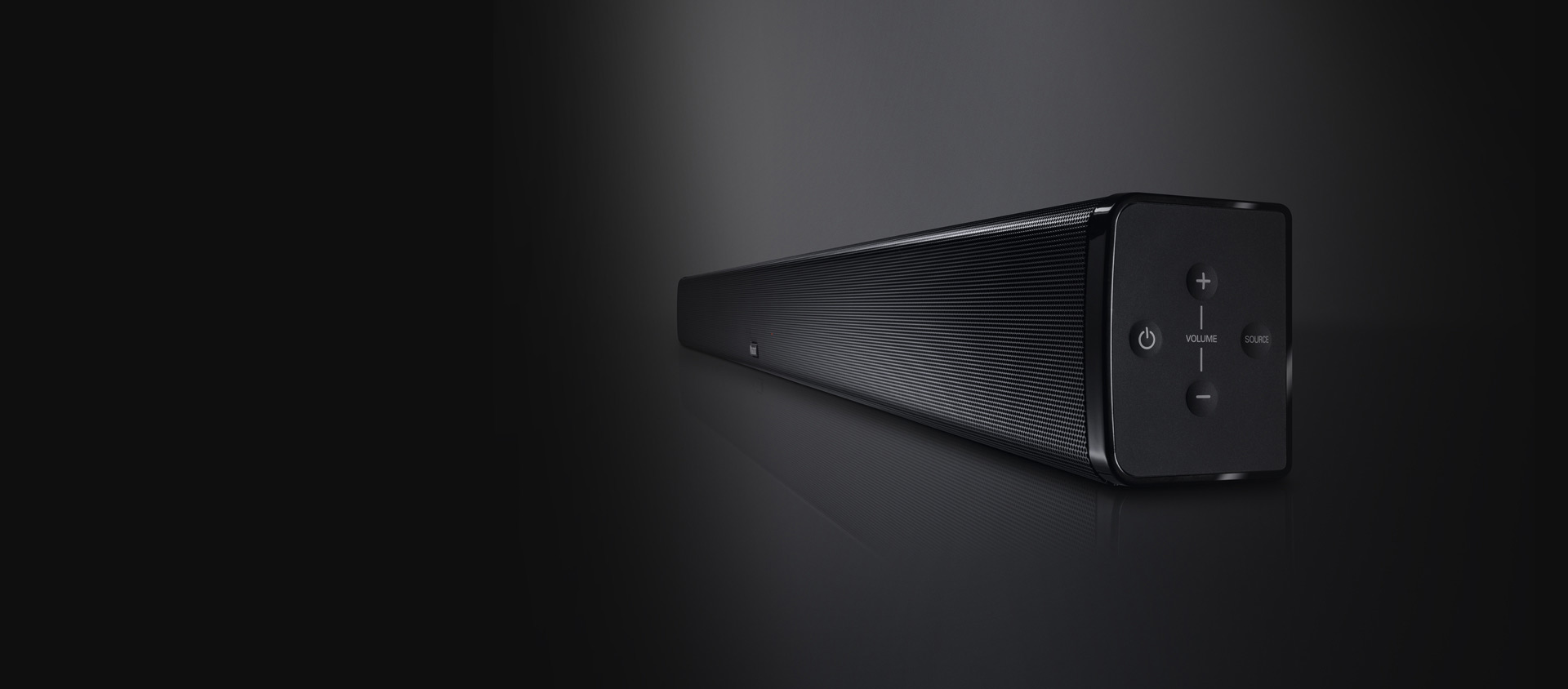 Dinámica, precisión y confort
Fully-fledged, dynamic home cinema sound from a slim soundbar and a wirelessly controlled high-performance subwoofer. Convenient operation via the remote control supplied or the function keys on the side.
Technical specifications
---
Princíp
2 x 2-way systems, active
Napájaný bass-reflex subwoofer
Vybavenie
4 x 35x90 mm woofers
1 x 200 mm Subwoofer
2 x 25 mm dome tweeter
Celkový výkon
Výstupný výkon (RMS/Max.)
4 x 20/40 Watt (L+R channel)
1 x 100/200 watts (Subwoofer)
Frekvenčný rozsah
Frekvencie výhybky
Rozmery (ŠxVxH)
1000 x 79 x 60 mm (Soundbar)
196 x 334 x 370 mm (Subwoofer)
Hmotnosť
2.5kg (Soundbar)
6.7 kg (Subwoofer)
Povrch kabinetu
Highlights
---
Zvýraznenia
Fully-fledged, dynamic home cinema sound from a slim soundbar and a wirelessly controlled high-performance subwoofer
3 additional HDMI® audio/video inputs with loss-free video repeater function, ultra-HD compatible (4K)
Perfect integration in the living room through the slim soundbar with a sturdy wall bracket and compact subwoofer
Easy-to-read LED info display on the front panel
Najnovší high-end Bluetooth® 4.0 štandard "aptX™" zaručuje prenos hudby v CD kvalite
Realistický, DSP-ovládaný 3D surround zvuk pre filmy a hudbu
Dolby® Digital dekodér (pre HDMI® a digitálny vstup)
HDMI® s ARC a CEC funkciou (Sounddeck môže byť ovládaný ovládačom od TV)
Nočný mód - redukovanie dynamiky zvuku, pre použitie v nočných hodinách
Jednoduchá inštalácia vďaka množstvu vstupov, s TV môže byť prepojený vďaka HDMI®
Three equalizer presets for an optimum reproduction of music, movies and enhanced speech intelligibility
Úplné ovládanie cez systém diaľkového ovládania
Pripojenia
HDMI®-CEC funkcia: Ovládanie pomocou TV diaľkového ovládača (Ak je táto funkcia podporovaná aj TV)
Optický digitálny vstup
HDMI®-ARC vstup pre priame pripojenie k TV
3 additional HDMI® audio/video inputs with video repeater function up to 4K resolution (the video signal is output to the HDMI®/ARC port)
Bluetooth® with Qualcomm® aptX™
Povrch kabinetu