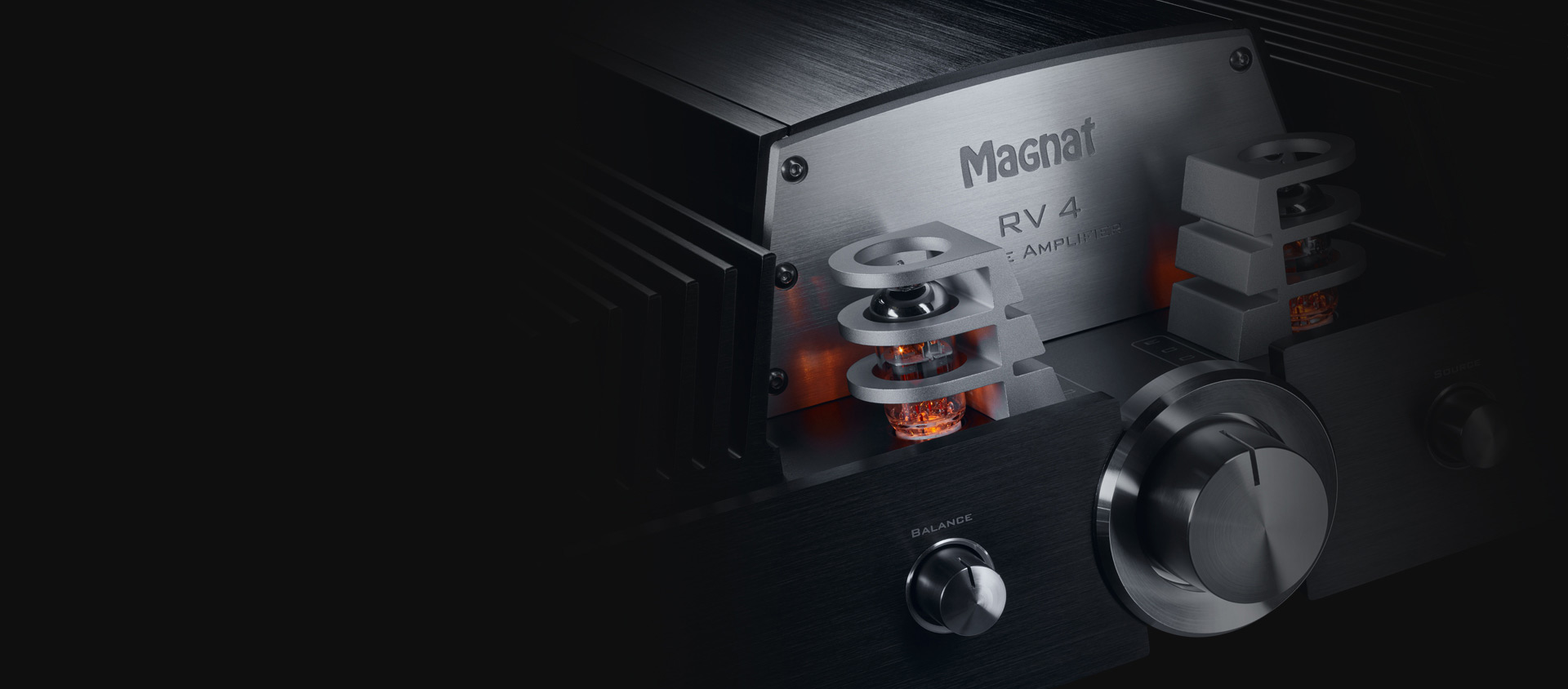 Exceptional hybrid concept
The audiophile heart of the Magnat RV 4 beats loudly and clearly in the pre-amp stage. Two high-quality, specially selected tubes produced in Russia are featured here. In this way, the Magnat engineers guarantee that the RV 4 delivers the warm tube sound so highly regarded among hi-fi fans. The necessary performance, with 150 watts RMS power output, is generated by the power amp with the help of high-quality Japanese transistors manufactured by Sanken.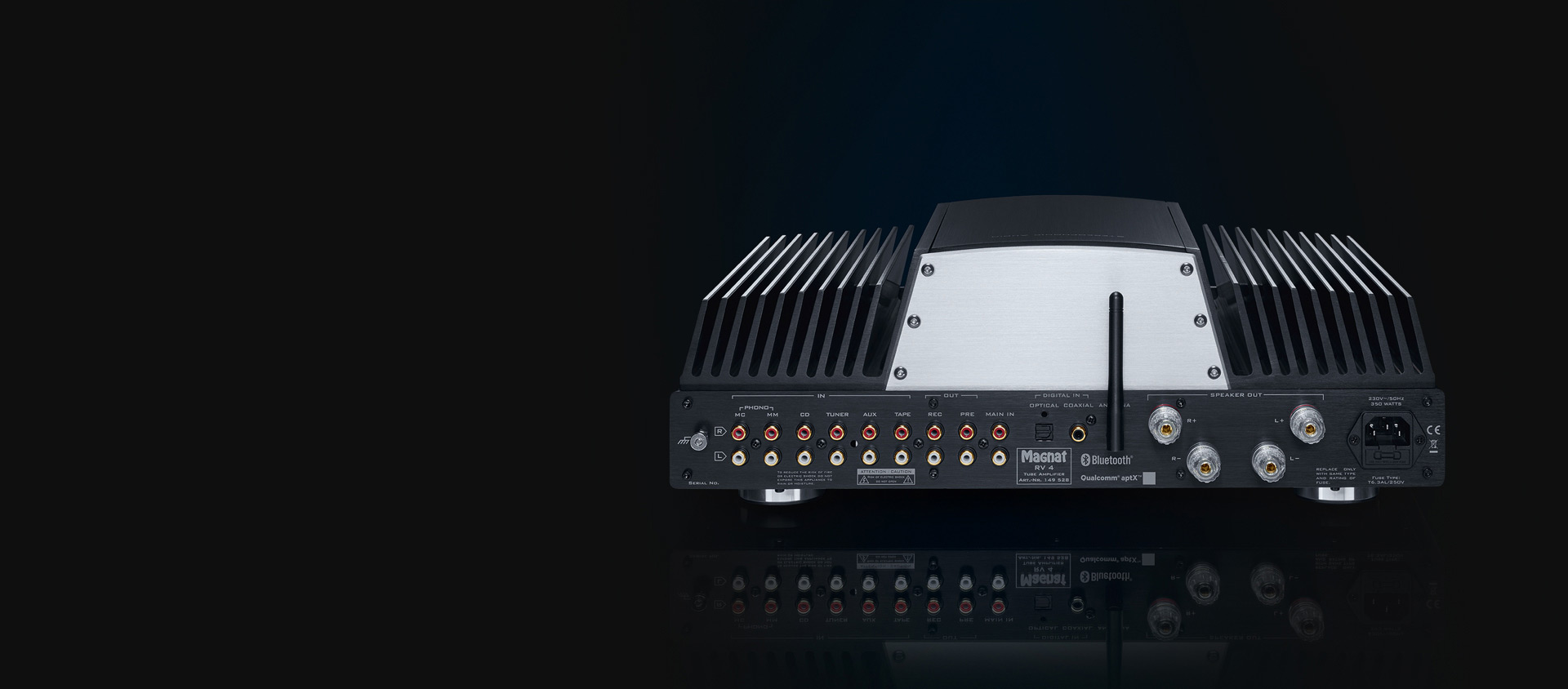 Nostalgia meets wireless
With its wide variety of digital connection possibilities, the RV 4 delights both the purist vinyl enthusiast and the modern streaming fan. The integrated phono pre-amp has separate inputs for MM and MC systems, offering the possibility to enjoy your beloved record collection in the very best quality. But audiophile streaming fans are also catered for on account of the amplifier featuring a particularly high-quality Bluetooth module, including aptX.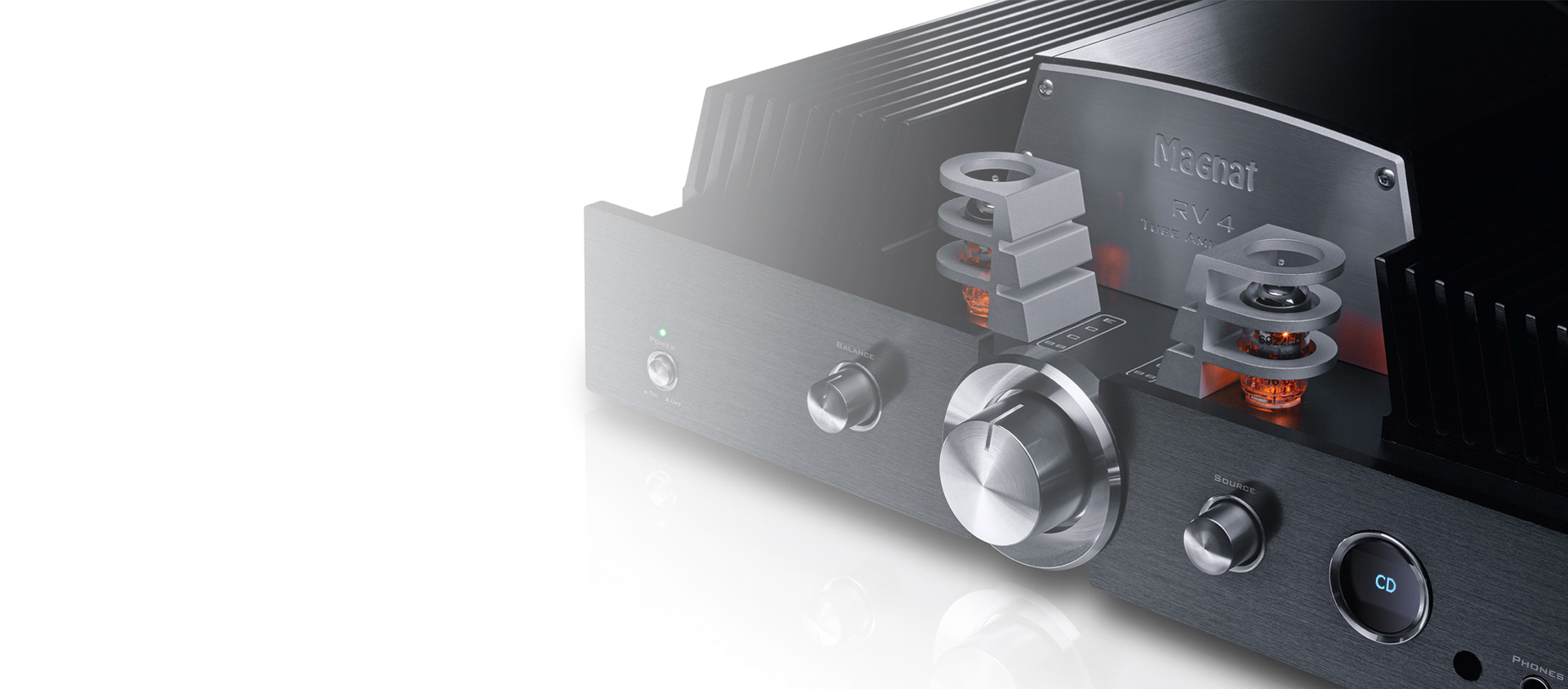 Stylish, distinctive design
The audiophile tubes glow in warm orange, with the heat sink giving the high-end amplifier an individual appearance. The organic LED display provides information about the current volume and source selection status. The overall high-quality impression of the high-end amplifier is rounded off by an all-metal enclosure with an 8 mm front panel and the solid aluminium controls.
Technical specifications
---
Výstupný výkon / nominálny
20 Hz – 20 kHz, THD < 1.0%, 4 Ohm, 2 x 150 W
20 Hz – 20 kHz, THD < 1.0%, 8 Ohm, 2 x 110 W
Vrchol
Frekvenčná odozva
CD/Tuner/Aux/Line/Tape/Digital: 8 Hz – 110 kHz (-3.0 dB), 20 Hz – 20 kHz (+/-0.1 dB)
Phono: 20 Hz – 20 kHz (+/-0.2 dB)
Subsonic Filter: 16Hz, 18 dB/Oct.
Spotreba energie
Vstupná citlivosť
Phono MM: 2,5mV/47kΩ
Digital: -13.5 dBFS
Phono MC: 0.25 mV/470 Ω
Digitálne vstupy
optický (Toslink™)
Podporovaná bitová hĺbka: 16/24bit
koaxiál (cinch)
Podporovaná vzorkovacia frekvencia: 44,1/48/88,2/96/176,4/192kHz
BLUETOOTH® VSTUP
Bluetooth® 4.0 / Qualcomm® aptX™
Sieťové napätie
Odstup signálu od šumu
CD/Tuner/Aux/Line/Tape: 110 dB (A)
Phono MC: 78 dB
Phono MM: 90 dB
Rozmery (ŠxVxH)
Main unit: 434 x 157 x 360 mm (410 mm incl. controls and connectors)
Remote control: 40 x 100 x 16mm
Farba
Hmotnosť
Highlights
---
Zosilňovač a napájania
Discrete high-performance amplifier with high quality power transistors from Sanken (Japan)
Output rating of 150 watts of sine power per channel (4 ohms), max. total peak power of 500 watts
Elaborate power supply with separately stabilised supply voltage for the individual circuits
Performance-optimised high-capacity buffer capacitors from Vishay/BC-Components
Generously dimensioned toroidal transformer in a vibrationresistant and air-tight configuration
BLUETOOTH® VSTUP
Bluetooth® 4.0 / Qualcomm® aptX™
Zvýraznenia
Combines an audiophile tube preamplifier and a high-performance transistor output stage
Perfectly tuned, audiophile components ensure a very harmonious sound
Audiophile tube preamplifier with two high-end low-noise tubes (E88CC) produced in Russia
Modern connectivity with digital section and Bluetooth® input (4.0) with the high-end audio standard Qualcomm® aptX™
Discrete high-end phono preamplifier with separate inputs for MM and MC systems
High-quality Burr-Brown digital-analogue converter
Stylish solid metal remote control for volume, input selection and mute function
Pripojenia
Power amplifier input (Main In) for an easy integration into a home cinema system
Preamplifier output (Pre Out) for connecting subwoofers or additional power amplifiers
Additional fixed level output (Rec Out)
Headphone output with high quality 6.3 mm jack
Output terminal with large, insulated speaker screw terminals
Phono MM a MC vstupy
4 vysoko úrovňové vstupy
Predzosilňovač
Particularly high-quality and low-noise SQ tube type, preselected and burned-in for 60 hours (Info: SQ ("Special Quality") is a high quality standard for tubes which was used e. g. for radio transmission technology and military purposes)
High quality tube sockets with gold-plated contacts
Input signal switching via high quality reed relays
Phono preamplifier with separate MM / MC inputs, low-noise operational amplifiers and subsonic filter
Digital input stage with an optical and an coaxial input for highresolution audio signals up to 192kHz/24bits
Volume control via high-precision motorised potentiometer from ALPS
Low-loss WIMA audio capacitors in the signal path
Telo reproduktoru
High-contrast "Organic LED" display
Two solid heatsinks and a solid aluminium cover for transformer and power supply capacitors
Sturdy solid metal housing with 8 mm front panel
Solid aluminium control elements
Povrch kabinetu
Bewertungen
---
Kundenbewertungen für "High-End-Hybrid-Vollverstärker mit Röhrenvorstufe und Bluetooth® mit aptX™"
Von:
Steve Abplanalp
Am:
13.9.2022
Incredible integrated amplifier
I have had my RV4 for a few years now and enjoy it every day. The sound quality is very impressive, with warm tones, and powerful bass handling. The build quality is high quality. The RV4 is an amplifier to last a lifetime.
Bewertungen werden nach Überprüfung freigeschaltet.