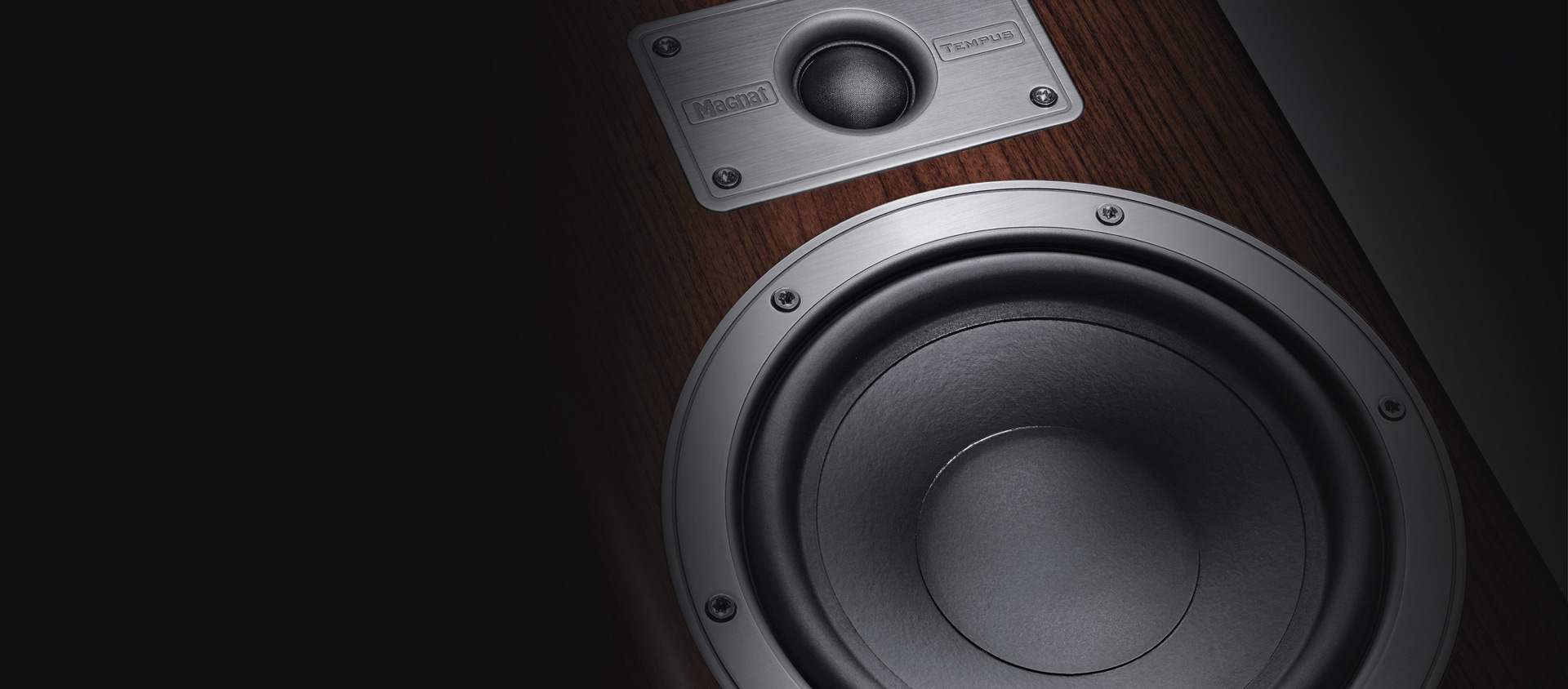 Entry-level flagship with proven Magnat subwoofers
The configuration of the chassis used by the speaker components in the Tempus series, from the shelf speaker to the flagship model, has been optimized for an homogeneous family sound. FE Dynamics woofers and subwoofers ensure the fastest reaction behavior from a coated paper membrane.
Technical specifications
---
Princíp
Vybavenie
25 mm výškový menič
170 mm stredový
2 x 170 mm basový menič
Únosnosť (RMS/Max.)
Citlivosť (2.8V/1m)
Impedancia
Frekvenčný rozsah
Frekvencie výhybky
Odporúčaný výstup zosilňovača
Rozmery (ŠxVxH)
200 x 1005 x 320 mm
295 x 1025 x 320 mm (incl. base)
Hmotnosť
Highlights
---
Basový/stredový reproduktor
Optimalizovaný Klippel® celkový dizajn
Potiahnutý papierový kónus
Ventilovaná hlasová cievka pre maximálnu spoľahlivosť
Cover rings for bass and mid-range speakers in a high quality metal finish
FE-Dynamics woofer-midrange
Solid metal basket with generous ventilation openings
Výškový menič
Newly developed 25 mm fmax dome tweeter with dispersion-optimized sound guide and powerful neodymium drive for an optimum resolution
Výhybka
Big Bi-Wiring/Bi-Amping connecting terminal with big screw connectors and gold-plated contacts
Výhybka optimalizovaná pre amplitúdu a fázu s akustickými 24 dB filtrami a vysoko-kvalitnými komponentami
Telo reproduktoru
Airflex port s kruhovým reflexným otvorom pre zníženie šumu vetra
Robustná nízko rezonančná skrinka navrhnutá s E1 MDF drevenými doskami
Vrátane rezonancie tlmiacich gumených nožičiek a kovových hrotov
Odnímateľná látková mriežka
Sturdy base struts for stability
Povrch kabinetu
Ash decor mocca
Dekor čierny jaseň
Bewertungen
---
Kundenbewertungen für "3-Wege Bassreflex-Standlautsprecher"
Bewertungen werden nach Überprüfung freigeschaltet.