---
MR 750
Stereo high-end hybrid receiver
Stereo hybrid receiver with transistor and tube technology
HDMI input for seamless integration of TV and all connected sources
Selected and previously burned-in tubes for optimum sound
2 x 70 watts RMS output, 250 watts system output
Extensive connections, digital, analogue, MM phono and Bluetooth aptX
FM and DAB+ receivers with 40 station presets
Solid metal housing with brushed aluminum front panel and controls
Stereo high-end hybrid receiver
The MR 750 finally opens up the combination of tube and transistor technology to all conceivable media. Here you can finally find an all-in-one solution for fans of classic 43 cm components, which can be perfectly combined with Magnat hi-fi components.


Sensitivity and power

With carefully selected ECC 88 tubes already burned in, the MR 750 delivers exactly the sound that connoisseurs appreciate. Thanks to the downstream power transistors, you don't have to do without an impressive output line.

Five analogue high-level inputs, 4 digital inputs plus a phono input for MM systems are the basis for also being able to connect large systems without any difficulty. On top of this, Bluetooth is included with the lossless aptX standard for the best sound from smartphone, tablet or computer. The tuner with FM and DAB+ opens up a whole variety of analogue and digital stations to fans, who can store them on up to 40 station memory locations.


Magnat MR 750 - HDMI and Bluetooth on board

The number of exciting sources for music and sound is growing constantly. You are well equipped for this with the MR 750 because, in addition to a wide range of analogue and digital, it also enables the direct connection of turntables, communicates with smartphones and tablets via Bluetooth and creates a seamless connection to the TV set and all connected sources via HDMI. With the latter, the volume can be easily adjusted using the television's remote control. For all other sources, this is done using the system remote control provided.


Discreetly informed

A metal housing and a solid aluminum front panel and controls speak for themselves every time you touch them and give you a feel for what acoustic delights the MR 750 has to offer. The elegant display announces input sources and station names. Apart from that, simply let yourself be captivated by the irresistible glow of the tubes, while enjoying music, films and other media from almost any source in previously unimaginable quality.

THE BEST OF BOTH WORLDS - TUBE SOUND AND TRANSISTOR PERFORMANCE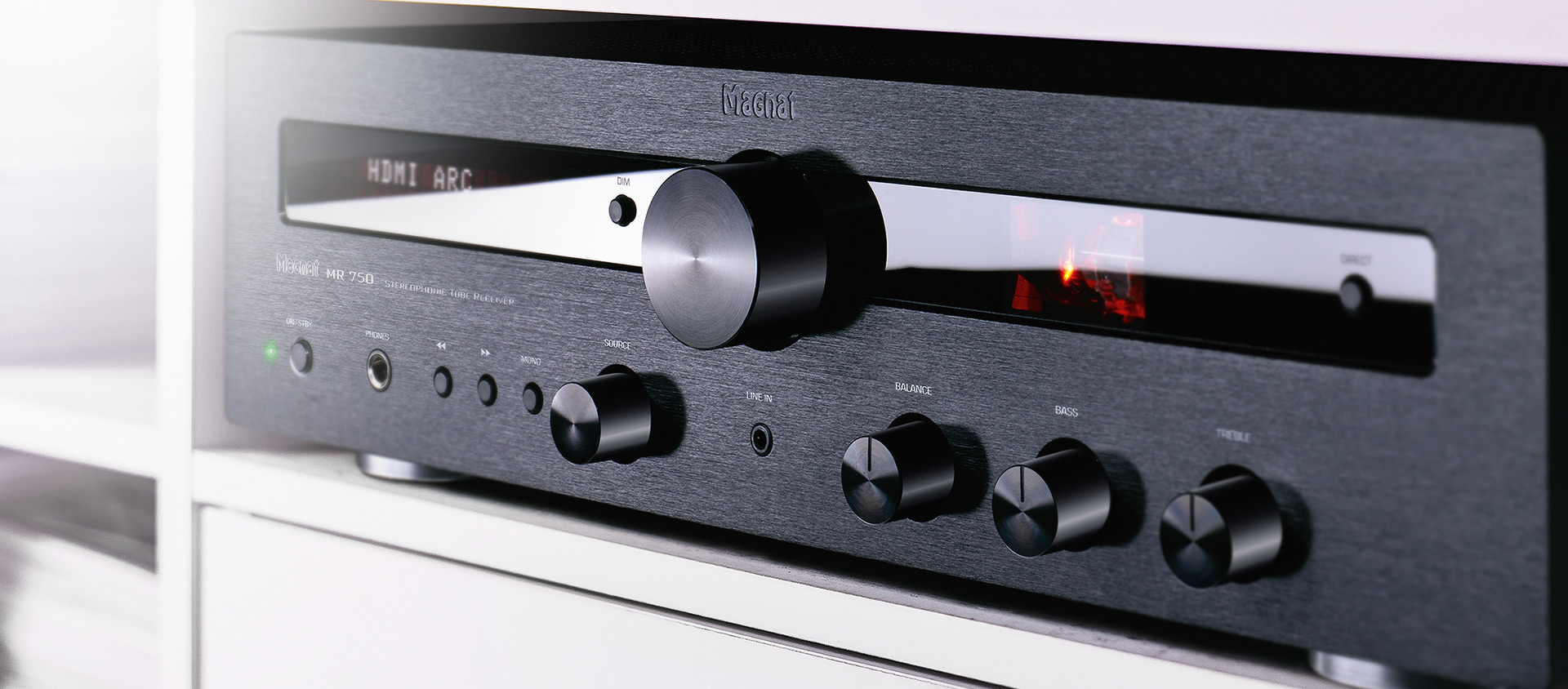 Technical specifications
---
Frekvenčná odozva
CD/Tuner/Aux/Line/Tape: 6 Hz – 90 kHz (-3,0 dB) 20 Hz – 20 kHz (+/-0,3 dB) Phono: 20 Hz – 20 kHz (+/-0,8 dB) Subsonic Filter : 16 Hz, 18 dB/Oct.
Výstupný výkon / nominálny
Spotreba energie
Vrchol
Digitálne vstupy
koaxiál (cinch)
Podporovaná vzorkovacia frekvencia: 44,1/48/88,2/96/176,4/192kHz
optický (Toslink™)
Podporovaná bitová hĺbka: 16/24bit
BLUETOOTH® VSTUP
Bluetooth® 5.0 / Qualcomm aptX®
Sieťové napätie
Odstup signálu od šumu
CD/Streamer/Aux/Line 102 dB (A), Phono MM 82 dB (A)
Rozmery (ŠxVxH)
Main unit: 433 x 116 x 300 mm
Farba
Hmotnosť
Highlights
---
Zosilňovač a napájania
Power output: 70 watts of sine power per channel at 4 ohms and 250 watts of maximum pulse power
Shielded toroidal transformer
Discrete Class A/B power amplifier
High-capacity filter/electrolytic capacitors
Elaborate mains adapter with separately stabilised supply voltage for the individual circuits
Standby power supply for low power consumption in standby mode < 0,5 watts
Standby power supply for low power consumption in standby mode
BLUETOOTH® VSTUP
Bluetooth® 5.0 / Qualcomm aptX®
FM/DAB-Tuner
Automatická skenovacia funkcia (FM)
Pamäť pre 40 DAB/DAB+ a FM staníc
Digitálny DAB/DAB+ tuner
RDS/radio text funkcia
FM tuner
Vyhľadávanie staníc (DAB)
Zvýraznenia
Solid aluminium controls
Speaker terminal with solid, insulated screw terminals that are capable of accommodating large cable cross-sections
Stable feet with damping rubber insert
Headphone output with high-quality 6.3 mm jack socket
Readable, two-line clear text display with adjustable brightness (3 stages)
Sturdy full-metal enclosure with solid, brushed aluminium front
System remote control for all functions
Predzosilňovač
Record Out fixed level output
Low-noise tube preamplifier with ECC 81 tube
Sub out connecting for use of an external active subwoofer
Four analogue high-level inputs
Two digital inputs for sampling frequencies up to 192kHz/24bits
HDMI® with ARC and CEC function (volume can be controlled via TV remote control)
Bluetooth® input (5.0) supports the high-end audio standard Qualcomm aptX®
High quality digital-to-analogue converter
High/low tone control, can be switched off via a direct function
Preselected and burned-in tubes
Additional 3.5 mm audio input on the front panel for connecting portable devices
MM-phono preamplifier with low-noise operational amplifiers and subsonic filters
Telo reproduktoru
Pevné hliníkové ovládacie prvky
Sturdy full-metal enclosure with solid, brushed aluminium front
Stable feet with damping rubber insert
Bewertungen
---
Kundenbewertungen für "Stereo High-End Hybrid-Receiver"
Wahnsinniges Preis/Leistungsverhältnis!
Hallo nach Köln,

ich muss hier mal eine Lanze für den MR 750 brechen! Leider gibt es viel zu wenige Tests, Rezensionen oder Youtube-Videos bei denen der MR 750 vorgestellt wird. Magnat da solltet Ihr mehr machen! Die Welt muss dieses tolle Stück Hifi-Elektronik kennenlernen!

Der MR 750 befeuert bei mir ein KEF LS50Meta-Set inklusive Subwoofer. Natürlich sind hier wahnsinnig viele Eingänge vorhanden, dennoch wollte ich einen Streamer, der es mir ermöglich auch HI-RES-Titel abzuspielen. Dazu dient der Node n130 von Bluesound. Eigentlich hat der Node von Hause aus einen vielfach gefeierten Umwandler aber mir gefällt der Sound über den Optischen Eingang und im Direct vom MR 750 mit Abstand am besten.

In allen Genres von Klassik über Pop hin zu Rock und Metal ist das Hören an meiner Anlage ein Genuss! Live-Titel wirken so lebendig als ob man im Publikum sitzt. Das Herzstück dabei ist klar der MR 750. Hatte mir natürlich erhofft, dass er einiges aus den Boxen raus holt. Aber mit diesem Ergebnis habe ich ehrlich gesagt nicht gerechnet. Vor dem Kauf war ich in einigen Hifi-Geschäften um mir etwas Inspiration zu holen...mittlerweile würde ich sagen, dass Magnat es geschafft hat ein gerät herzustellen, dass für relativ kleines Geld im Konzert der ganz großen mitspielen kann!

Ich werde mit meinen Setup noch ganz viel Freude haben ;)
Bewertungen werden nach Überprüfung freigeschaltet.