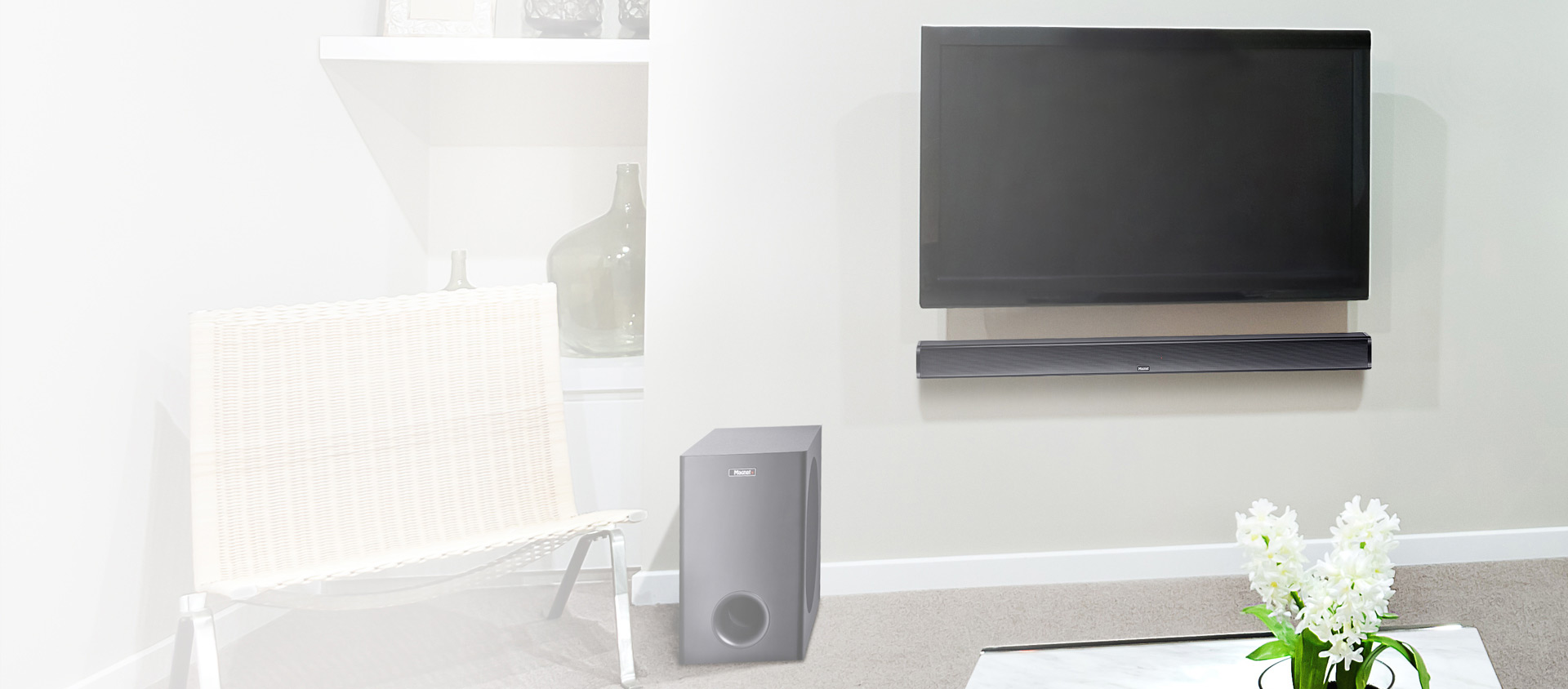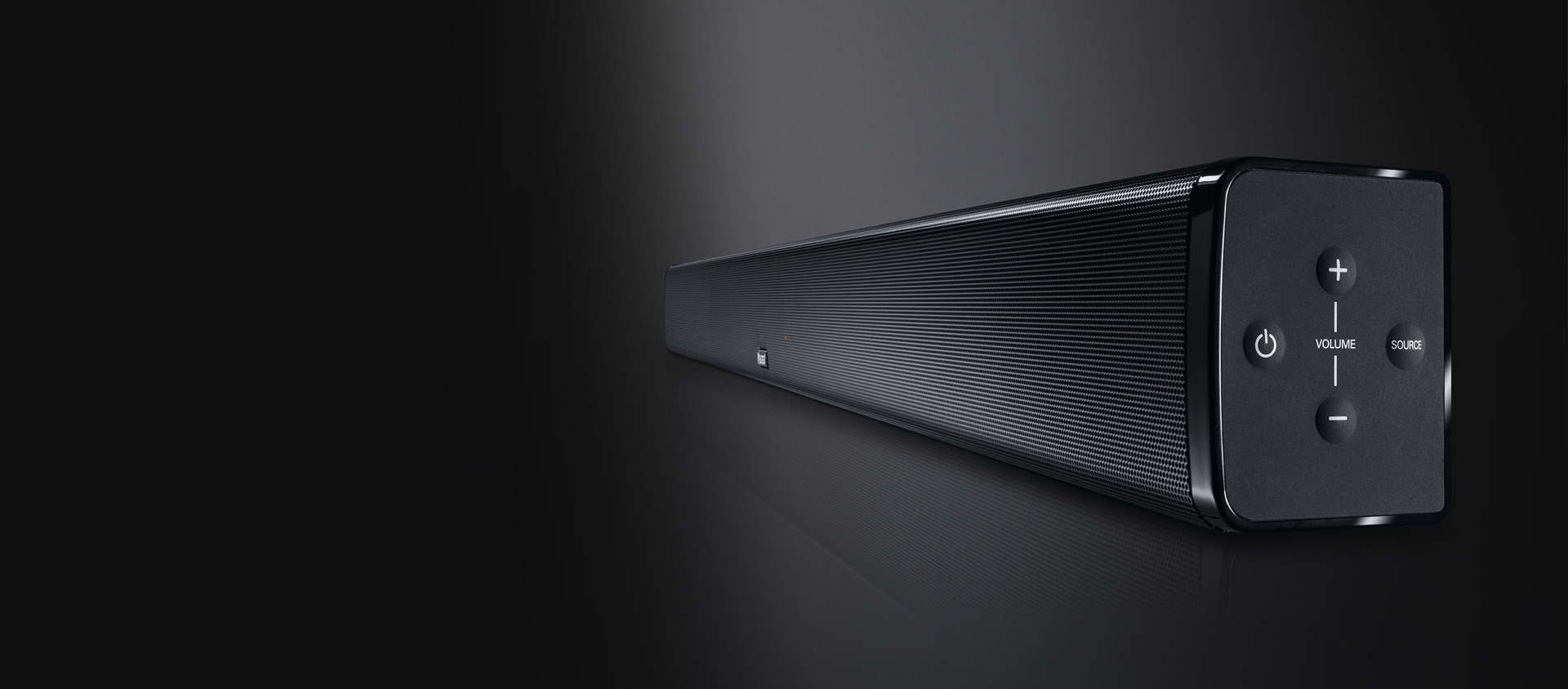 WLAN combined with virtual surround sound
Fully-fledged, dynamic home cinema sound from a slim soundbar and a wirelessly controlled high-performance subwoofer. Operation is via the remote control provided or the function keys on the side. In a few simple steps, the CSB 1000 can be integrated into the existing WLAN and controlled using the Qualcomm app.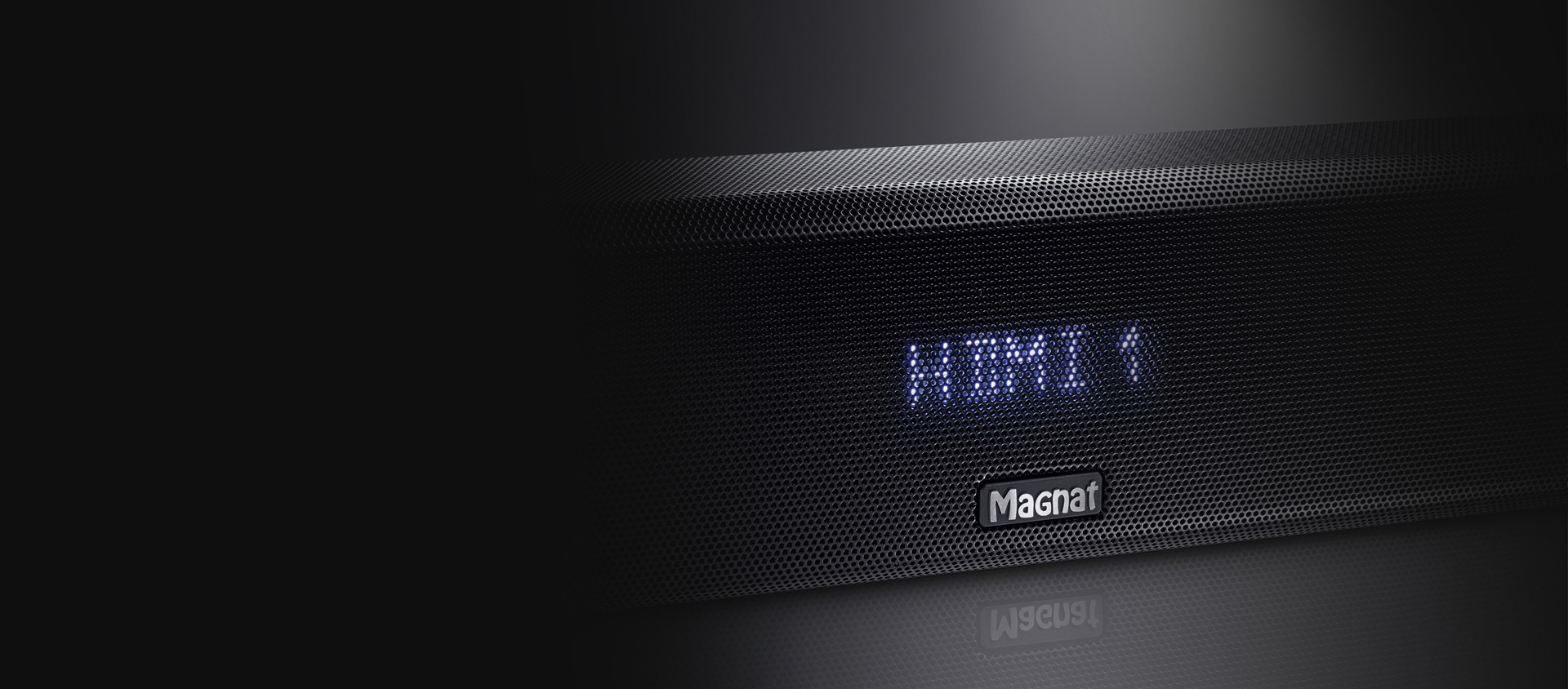 Perfectly integrated LED display
The LED display for the status indicator is located unobtrusively behind the soundbar speaker grille. The easy-to-read display shows the user the signal source that has been selected.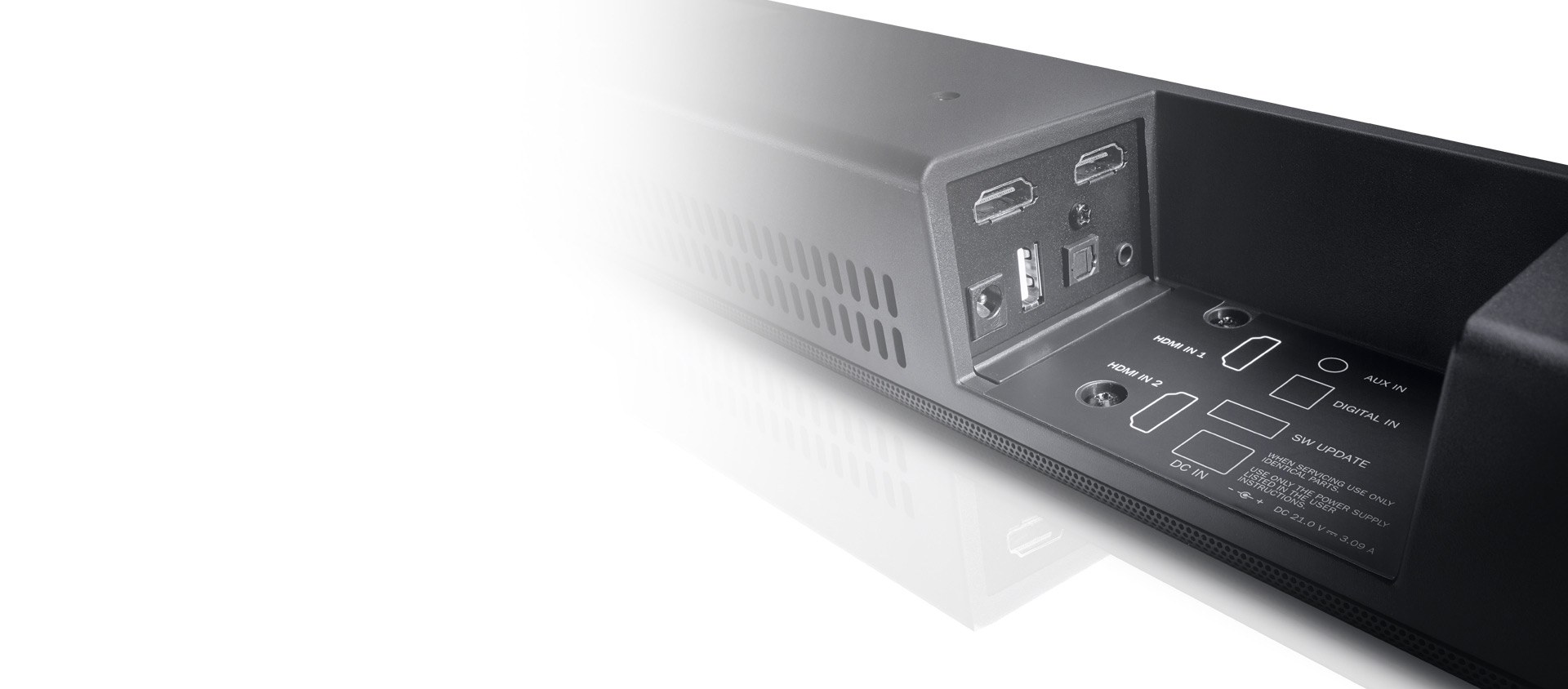 Extensive features, including HDMI
The CSB 1000 Soundbar is, of course, equipped with HDMI, including Audio Return Channel (ARC). Three additional UltraHD-compatible HDMI inputs and an optical digital input offer a high degree of flexibility for connecting other devices. Audio signals can also be fed to the soundbar via Bluetooth.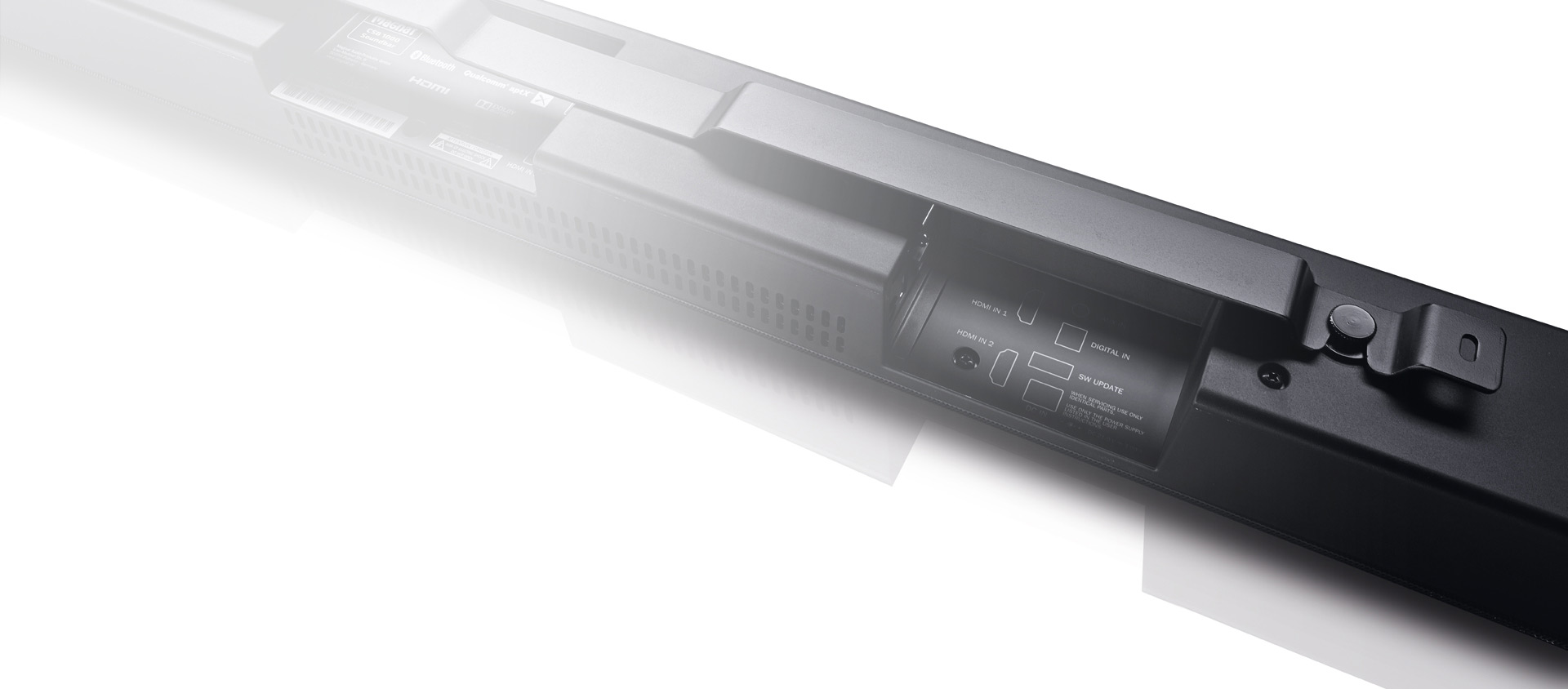 Prepared for wall mounting
The particularly slim soundbar can be incorporated into any living room surroundings thanks to the wall bracket provided. There is a convenient wireless connection to the subwoofer, meaning that it can be placed wherever you want.
Technical specifications
---
Princíp
2 x 2-way systems, active (Soundbar)
Powered bass reflex subwoofer
Vybavenie
2 x 1"tweeter
4 x 1.4"x3.5" midrange
Subwoofer: 1 x 250 mm Subwoofer
Celkový výkon
Výstupný výkon (RMS/Max.)
4 x 20/40 Watt (L+R channel)
1 x 100/200 watts (Subwoofer)
Frekvenčný rozsah
Frekvencie výhybky
Rozmery (ŠxVxH)
230 x 382 x 418 mm (Subwoofer)
1000 x 79 x 60 mm (Soundbar)
Hmotnosť
2.5kg (Soundbar)
9.4 kg (Subwoofer)
Povrch kabinetu
Highlights
---
Equipment
Various connecting cables included
WLAN network connection, control via free Allplay Jukebox app for iOS and Android
Supports Qualcomm® Allplay™
Easy to install due to numerous inputs, can be connected directly to the TV due to HDMI®
Dolby® Digital decoder (for HDMI® and digital input)
HDMI® with ARC and CEC function (Soundbar can be controlled via TV remote control)
3 additional HDMI® audio/video inputs with loss-free video repeater function, ultra-HD compatible (4K)
Bluetooth® with the latest high-end audio standard "Qualcomm® aptX™" ensures the transmission of CD-quality music
Perfect integration in the living room through the slim soundbar with a sturdy wall bracket and compact subwoofer
Realistic, DSP-controlled 3D surround sound for movies and music
Additional bass and treble controls (via the menu) for optimum sound adjustment
Adjustable subwoofer level
Night mode with reduced dynamic for use at volume-sensitive times
Entirely controlled through the system remote control
Easy-to-read LED info-display on the front panel
Pripojenia
3 additional HDMI® audio/video inputs with video repeater function up to 4K resolution (the video signal is output to the HDMI®/ARC port)
Bluetooth® with Qualcomm® aptX™
HDMI®-ARC vstup pre priame pripojenie k TV
Optický digitálny vstup
HDMI®-CEC funkcia: Ovládanie pomocou TV diaľkového ovládača (Ak je táto funkcia podporovaná aj TV)
WLAN input for integration in the home network
Analógový vstup (konektor 3,5 mm)
Separate power supply for the Soundbar
Povrch kabinetu