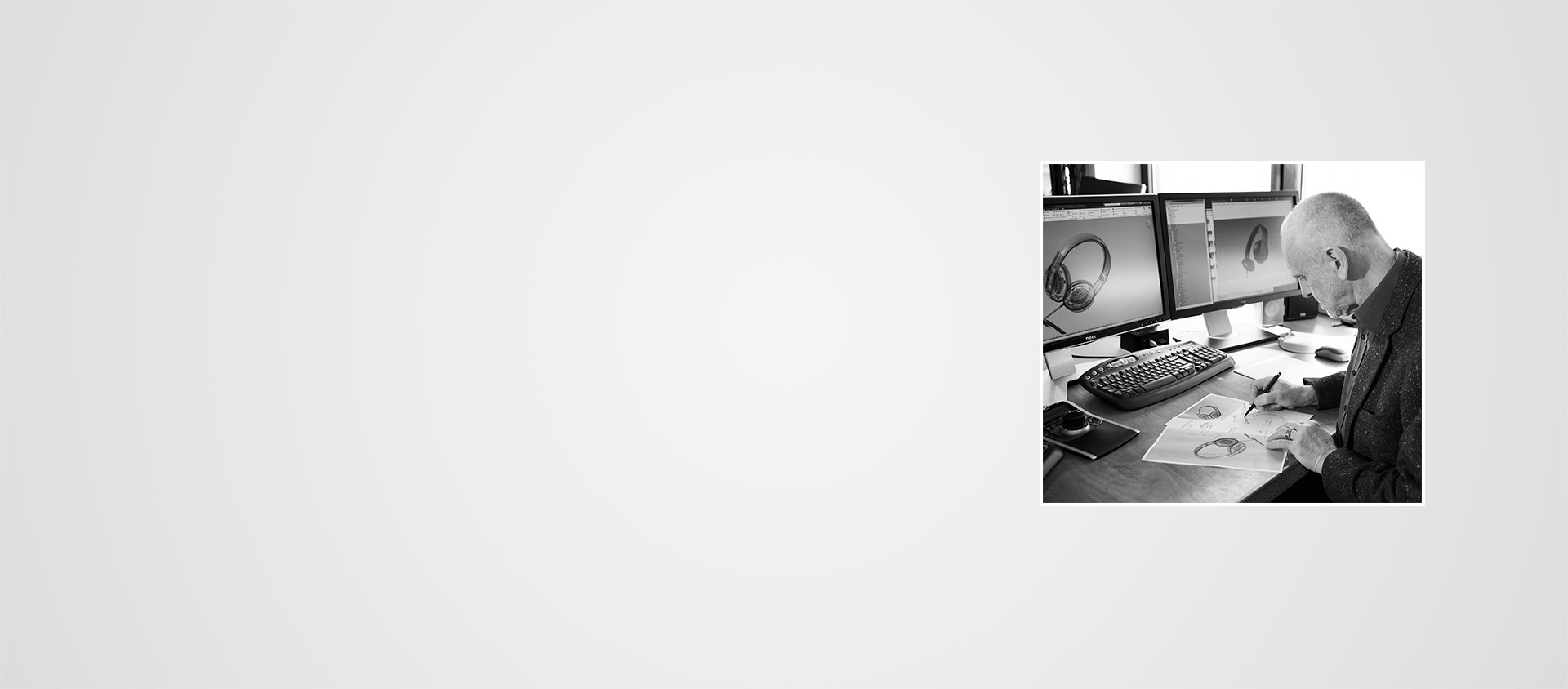 Symbiose de la technologie et du design
"Une bonne conception d'un produit acoustique implique relier les acquis de la recherche et les caractéristiques techniques avec une conception ergonomique. Notre mission est de donner suffisamment d'espace à la mécanique et à la technologie pour développer un son parfait. Pour les haut-parleurs et les casques nous poursuivons toujours le principe fondamental: pour un bon design de produit, on dira que la forme dépend de la fonction (form follows function)."

Helmut Thiele, Produkt-Desginer
La technique est déterminée par le cadre

Certaines sociétés font passer le design avant tout. Si un châssis de haut-parleur ne s´intègre pas dans un boîtier extravagant, elles préfèrent adapter la technologie plutôt que le design. Mais nous ne fonctionnons pas ainsi chez Magnat. Notre devise dans le processus de développement est que la technologie représente la base déterminante pour la création d'une enceinte. Ceux qui connaissent nos produits savent que nous portons également un grand soin à l'aspect esthétique : après que les développeurs aient défini les conditions cadres, nous créons un design extérieur unique pour chaque produit et chaque série, avec la touche clairement identifiable de Magnat.


Cette philosophie nous permet d'éviter de faire le moindre compromis en termes de qualité sonore au profit du design. « The Science of Sound » est notre devise et un coup d´œil sur notre gamme montre clairement qu'une concentration sur le son parfait n'implique pas forcément de sacrifier l'esthétique : chacune de nos enceintes présente un aspect élégant et fonctionnel qui lui permet de déployer ses caractéristiques acoustiques de façon optimale. Dans chaque catégorie de prix, nous proposons ainsi des produits attrayants qui allient harmonieusement design et technique.


Construction solide pour un son optimal
Les haut-parleurs déplacent l'air afin de produire du son. Ils doivent donc bouger très vite et parfois avec de fortes déviations. Ils doivent aussi reproduire chaque signal de manière très précise et sans distorsion. Cela exige une grande solidité du boîtier et des oscillations aussi faibles que possible. Si l´on est conscient de ces principes pour la diffusion audio de haute qualité, il devient vite clair qu´une construction mécanique solide représente la clé de toute enceinte d'exception. Nous suivons ce principe dans chaque étape de développement.
Cela ne signifie toutefois pas que nous n'accordons aucune importance au design de nos enceintes. Bien au contraire : une fois les conditions cadres posées, nos designers peuvent donner libre cours à leur créativité afin de donner à nos produits l'aspect élégant et épuré qui les caractérise. Dans la mesure de ce qui est permis par les spécifications techniques, cela comprend les modifications de la forme du boîtier comme par exemple des bords arrondis ou le jeu avec les matières de surface et les couleurs. Une particularité appréciée de nos enceintes est par exemple le contraste entre le corps de l'enceinte et le châssis des haut-parleurs. Nos designers en profitent volontiers pour créer un design remarquable sans affecter les caractéristiques acoustiques.