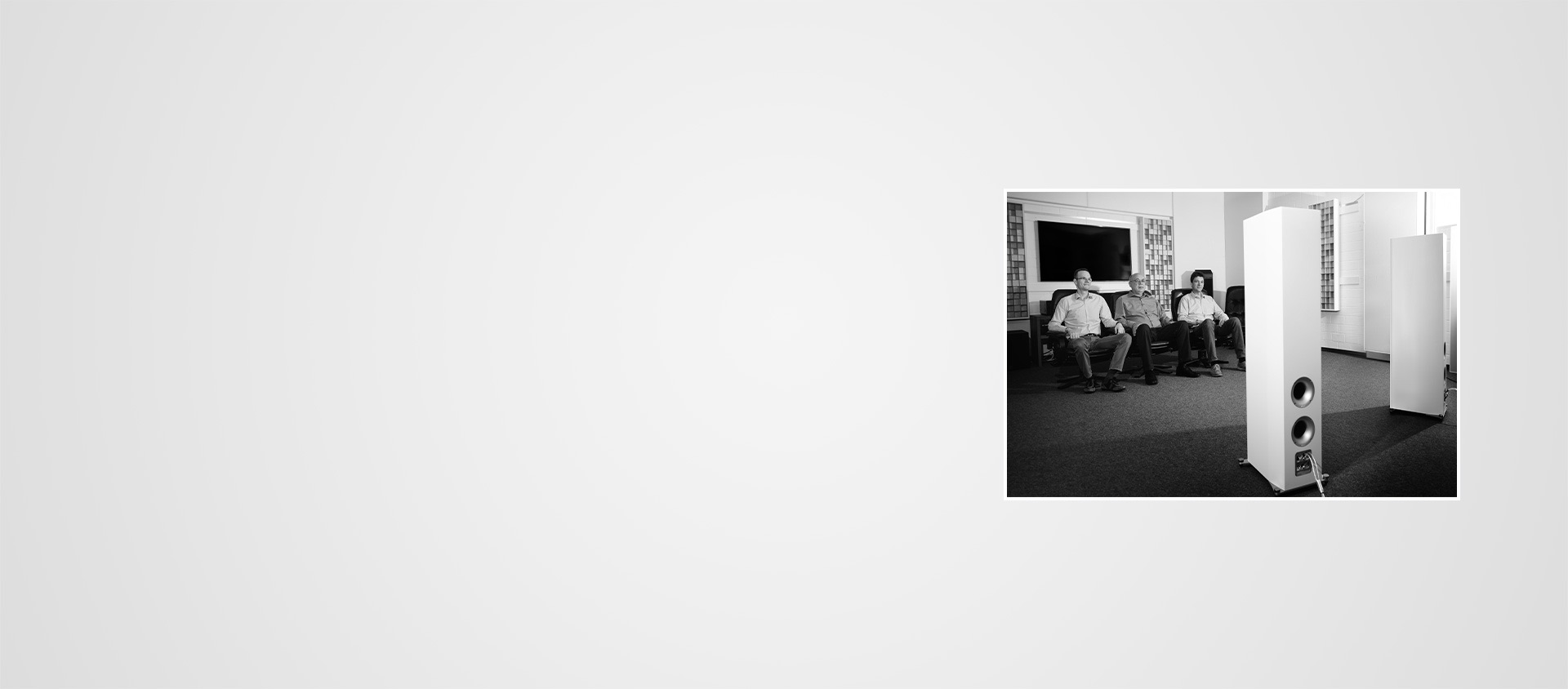 Sound Engineered in Germany
"Le développement de produits audio nécessite le bon mélange. Seule la combinaison entre technique de mesure, tests d'écoute et expérience permet d'obtenir un produit digne de porter le logo Magnat. Nous pourrions simplement acheter nos produits chez un grossiste, faire quelques ajustements cosmétiques et apposer un logo Magnat. Mais il ne serait plus question de passion du son parfait ni de science. C'est pourquoi nous développons absolument tous nos produits en interne, de la série de haut-parleurs la plus abordable jusqu'aux Quantum Signature et du lecteur CD à l'amplificateur à tubes haut de gamme."

Martin Gross, Magnat Dovelopment Engineer
Tandis que les enceintes haut de gamme nécessitent logiquement un effort de développement supérieur à celui pour les enceintes d'entrée de gamme, nous avons une règle immuable : Magnat ne pratique pas le « recyclage de produits ». Cela signifie que nous développons aussi de nouveaux haut-parleurs pour chaque nouvelle série. Nous n'acceptons ainsi aucun compromis au niveau du son, pour que tous les composants de chaque enceinte soient parfaitement optimisés et accordés, du boîtier jusqu'au matériau de la membrane de haut-parleur. C'est pourquoi nous utilisons des équipements haute technologie de Klippel, Audio Precision, Brüel & Kjaer ou Rohde & Schwarz, afin que le moindre détail du produit s'adapte au concept global.
Choix des composants dans les moindres détails
The Science of Sound, la science du son parfait est notre devise et le domaine d'étude pour lequel nous créons et testons chaque jour de nouvelles méthodes. Le résultat : un son audiophile nettement supérieur que l'on peut entendre et mesurer. Dès que la science apporte les conditions parfaites pour une nouvelle enceinte, nous nous attelons au développent concret, également appelé Engineering. Comme nous l'avons déjà expliqué, la première partie du développement des enceintes se fait principalement sur la planche à dessin, sur la base de principes scientifiques et de notre expérience. Cette théorie est ensuite testée dans la pratique à l'aide de prototypes. Et soyons honnêtes : la première version n´est jamais parfaite. Nos développeurs travaillent d'arrache-pied jusqu'à ce que la nouvelle enceinte soit optimisée de façon à sonner comme ils l'avaient imaginé, voire parfois même mieux encore.
La philosophie de Magnat est simple : une bonne enceinte est une bonne enceinte. C'est pourquoi notre nouvelle gamme contient des produits HiFi et home-cinéma. De l'enceinte passive classique au système de streaming actif, tout y est. Sans oublier une grande variété de produits électroniques de haute qualité. Ceux qui veulent se concentrer sur la diffusion de films d'action immersifs seront comblés par notre gamme home-cinéma. Les enceintes audiophiles se concentrent sur la diffusion fidèle de la musique avec un supplément important : nos enceintes stéréo sont complétées par des enceintes arrière et centrales ainsi que le subwoofer correspondant pour une configuration home-cinéma complète. Peu importe le choix du client Magnat, il profite toujours d'un produit haute technologie au meilleur rapport qualité/prix. Et toujours en sachant que les produits sont issus d'un processus de développement poussé, à Pulheim près de Cologne, « Engineered in Germany ».