---
MR 750
Receptor híbrido estéreo de alta gama
Stereo hybrid receiver with transistor and tube technology
Entrada HDMI para una perfecta integración del televisor y todas las fuentes conectadas a él
Selected and previously burned-in tubes for optimum sound
2 x 70 vatios de potencia sinusoidal, 250 vatios de potencia máxima
Gran número de conexiones, digitales, analógicas, de audio MM y Bluetooth aptX
FM and DAB+ receivers with 40 station presets
Sólida carcasa metálica con frontal y elementos de mando en aluminio cepillado
Receptor híbrido estéreo de alta gama
El MR 750 brinda la combinación definitiva de tecnología de tubos y transistores a todos los medios imaginables. Por fin tenemos una solución integral para los aficionados a los componentes de tamaño clásico 43 que puede combinarse perfectamente con los componentes de alta fidelidad de Magnat.


Sensibilidad y potencia

Con los tubos de tipo ECC81 cuidadosamente seleccionados y ya «sometidos a combustión», el MR 750 ofrece exactamente el sonido que aprecian los entendidos. Pero además, gracias a los transistores de potencia posteriores, no es necesario renunciar a una impresionante potencia de salida.

Cinco entradas analógicas de alto nivel, 4 entradas digitales y una entrada de audio para sistemas MM son todo lo necesario para conectar incluso los sistemas más extensos sin ningún problema. Además, hay Bluetooth con el estándar aptX sin pérdidas para obtener el mejor sonido desde smartphones, tabletas o incluso ordenadores. El sintonizador con FM y DAB+ ofrece la variedad de emisoras analógicas y digitales a los aficionados, que pueden almacenarlas en hasta 40 memorias de emisoras.


Magnat MR 750: HDMI y Bluetooth a bordo

El número de fuentes interesantes de música y sonido crece sin cesar. Con el MR 750 estará bien equipado en esta situación, porque además de ofrecer una amplia gama de entradas analógicas y digitales, permite la conexión directa de tocadiscos, se comunica a través de Bluetooth con teléfonos inteligentes y tabletas y crea una conexión perfecta a través de HDMI con el televisor y todas las fuentes conectadas a él. En este caso, el volumen se puede ajustar fácilmente con el mando a distancia del televisor. Para todas las demás fuentes, puedes hacerlo con el mando a distancia del sistema suministrado.


Información discreta

La carcasa metálica y el panel frontal, así como los mandos de aluminio macizo, hablan por sí solos cada vez que se tocan y permiten intuir con solo hacerlo las delicias acústicas que ofrece el MR 750. La elegante pantalla anuncia las fuentes de entrada y los nombres de las emisoras. Por lo demás, simplemente puedes dejarte cautivar por el irresistible brillo de los tubos mientras disfrutas de música, películas y otros medios desde prácticamente cualquier fuente con una calidad hasta ahora inimaginable.

THE BEST OF BOTH WORLDS - TUBE SOUND AND TRANSISTOR PERFORMANCE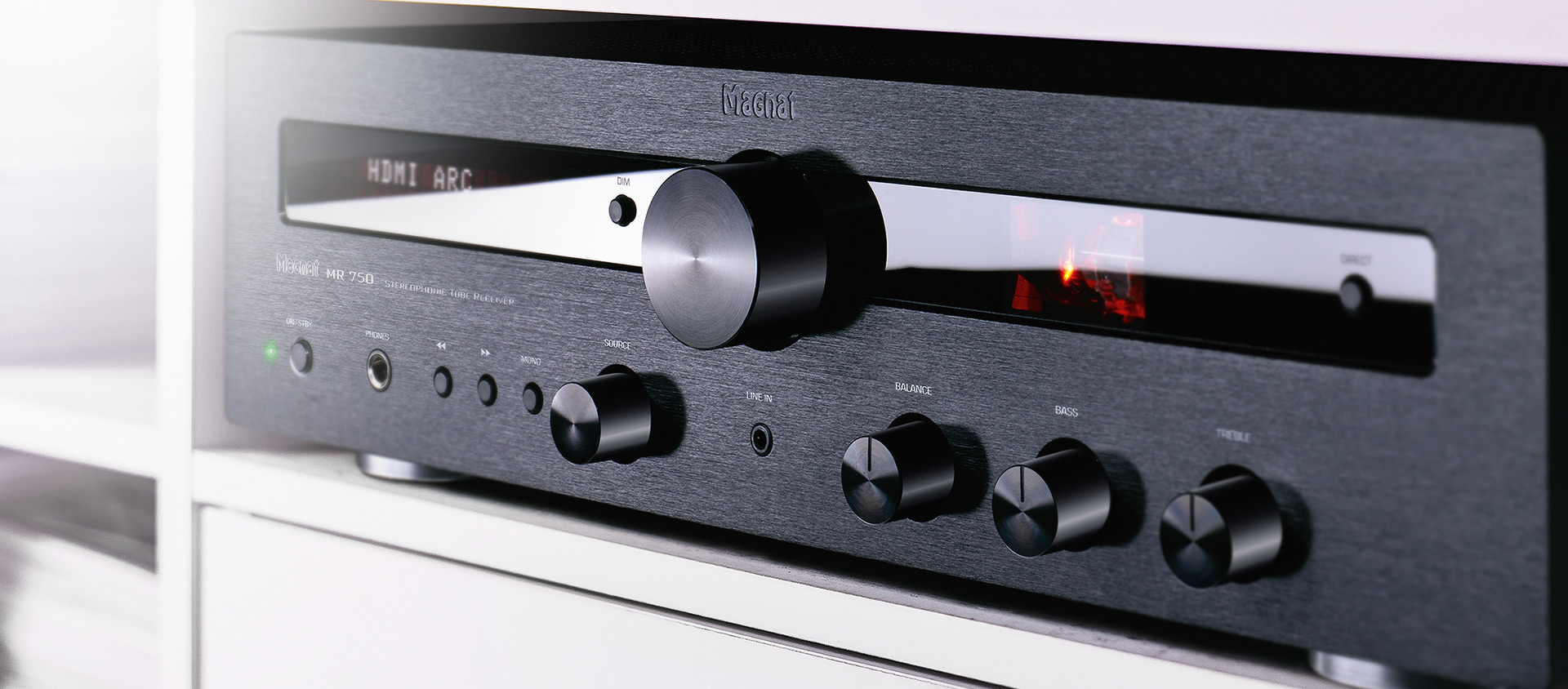 Technical specifications
---
Respuesta de frecuencia
CD/Tuner/Aux/Line/Tape: 6 Hz – 90 kHz (-3,0 dB) 20 Hz – 20 kHz (+/-0,3 dB) Phono: 20 Hz – 20 kHz (+/-0,8 dB) Subsonic Filter : 16 Hz, 18 dB/Oct.
Potencia de salida/Potencia nominal
Potencia de entrada
Potencia de pico
Entradas digitales
óptica (Toslink ™)
Frecuencias de muestreo compatibles: 4.1/48/88.2/96/176.4/192kHz
coaxial (RCA)
Profundidad de bits admitida: 16/24bits 16/24Bit
Bluetooth® input
Bluetooth® 5.0 / Qualcomm aptX®
Voltaje de alimentación
Distancia de voltaje sofométrico
CD/Streamer/Aux/Line 102 dB (A), Phono MM 82 dB (A)
Dimensiones (an x al x pr)
Main unit: 433 x 116 x 300 mm
Tinta
Peso
Highlights
---
Paso final y bloque de alimentación
Power output: 70 watts of sine power per channel at 4 ohms and 250 watts of maximum pulse power
Standby power supply for low power consumption in standby mode
Discrete Class A/B power amplifier
High-capacity filter/electrolytic capacitors
Shielded toroidal transformer
Elaborate mains adapter with separately stabilised supply voltage for the individual circuits
Standby power supply for low power consumption in standby mode < 0,5 watts
Bluetooth® input
Bluetooth® 5.0 / Qualcomm aptX®
FM/DAB-Tuner
Digital DAB/DAB+ tuner
FM tuner
RDS/radio text function
Station search (DAB)
40 programmable station presets each for DAB/DAB+ and FM
Automatic scanning function (FM)
Generales particularidades
Mando a distancia del sistema para todas las funciones
Headphone output with high-quality 6.3 mm jack socket
Solid aluminium controls
Stable feet with damping rubber insert
Speaker terminal with solid, insulated screw terminals that are capable of accommodating large cable cross-sections
Readable, two-line clear text display with adjustable brightness (3 stages)
Sturdy full-metal enclosure with solid, brushed aluminium front
Pre-Amplificador
Record Out fixed level output
Sub out connecting for use of an external active subwoofer
High quality digital-to-analogue converter
High/low tone control, can be switched off via a direct function
Four analogue high-level inputs
Two digital inputs for sampling frequencies up to 192kHz/24bits
HDMI® with ARC and CEC function (volume can be controlled via TV remote control)
Bluetooth® input (5.0) supports the high-end audio standard Qualcomm aptX®
Low-noise tube preamplifier with ECC 81 tube
Preselected and burned-in tubes
Preamplificador MM con amplificadores operacionales de bajo nivel de ruido y filtro subsónico
Entrada de audio de 3,5 mm adicional en el frontal del equipo portátil
Caja
Carcasa de metal macizo estable con frontal de aluminio macizo y cepillado
Pies del equipo estables con inserto de goma amortiguador
Elementos de control de aluminio sólido
Bewertungen
---
Kundenbewertungen für "Stereo High-End Hybrid-Receiver"
Wahnsinniges Preis/Leistungsverhältnis!
Hallo nach Köln,

ich muss hier mal eine Lanze für den MR 750 brechen! Leider gibt es viel zu wenige Tests, Rezensionen oder Youtube-Videos bei denen der MR 750 vorgestellt wird. Magnat da solltet Ihr mehr machen! Die Welt muss dieses tolle Stück Hifi-Elektronik kennenlernen!

Der MR 750 befeuert bei mir ein KEF LS50Meta-Set inklusive Subwoofer. Natürlich sind hier wahnsinnig viele Eingänge vorhanden, dennoch wollte ich einen Streamer, der es mir ermöglich auch HI-RES-Titel abzuspielen. Dazu dient der Node n130 von Bluesound. Eigentlich hat der Node von Hause aus einen vielfach gefeierten Umwandler aber mir gefällt der Sound über den Optischen Eingang und im Direct vom MR 750 mit Abstand am besten.

In allen Genres von Klassik über Pop hin zu Rock und Metal ist das Hören an meiner Anlage ein Genuss! Live-Titel wirken so lebendig als ob man im Publikum sitzt. Das Herzstück dabei ist klar der MR 750. Hatte mir natürlich erhofft, dass er einiges aus den Boxen raus holt. Aber mit diesem Ergebnis habe ich ehrlich gesagt nicht gerechnet. Vor dem Kauf war ich in einigen Hifi-Geschäften um mir etwas Inspiration zu holen...mittlerweile würde ich sagen, dass Magnat es geschafft hat ein gerät herzustellen, dass für relativ kleines Geld im Konzert der ganz großen mitspielen kann!

Ich werde mit meinen Setup noch ganz viel Freude haben ;)
Bewertungen werden nach Überprüfung freigeschaltet.