---
MA 700
Amplificador híbrido estéreo de alta gama
Sólida carcasa metálica con elementos frontales y de mando en aluminio
Amplificador híbrido estéreo con tecnología de transistores y tubos
Entrada HDMI para una perfecta integración del televisor y todas las fuentes conectadas a él
Tubos seleccionados y ya sometidos a combustión para obtener un mejor sonido
2 x 70 vatios de potencia sinusoidal, 250 vatios de potencia máxima
Gran número de conexiones, digitales, analógicas y Bluetooth aptX
Amplificador híbrido estéreo de alta gama
Otro producto destacado con una combinación de tecnología de tubos y transistores.
La combinación del mejor sonido y un rendimiento impresionante viene acompañado aquí de una impresionante variedad de opciones de conexión. En primer lugar, HDMI para una perfecta integración del televisor con todas sus fuentes de reproducción.


Potencia y sonido

Con los tubos de tipo ECC 81 cuidadosamente seleccionados y ya sometidos a combustión, el MA 700 ofrece exactamente el sonido que aprecian los entendidos. Pero además, gracias a los transistores de potencia posteriores, no es necesario renunciar a una impresionante potencia de salida.

Cinco entradas analógicas de alto nivel, 4 entradas digitales y una entrada de audio para sistemas MM son todo lo necesario para conectar incluso los sistemas más extensos sin ningún problema. Además, hay Bluetooth con el estándar aptX sin pérdidas para obtener el mejor sonido desde smartphones, tabletas o incluso ordenadores.


Magnat MA 700: HDMI para el paquete multimedia completo

Con la creciente oferta de servicios de vídeo, cada vez es más interesante reproducir también sus contenidos con la mejor calidad. Gracias a la entrada HDMI del MA 700, esto se puede hacer sin problemas; incluso el volumen se puede controlar a través del mando a distancia del televisor. Y todas las fuentes conectadas, desde la videoconsola hasta el decodificador, también pueden disfrutar de las capacidades de sonido de nuestro amplificador híbrido.


Un look para la eternidad

Lo que parece metal aquí está realmente hecho de metal. Esto comienza con la carcasa maciza, continúa con el panel frontal de aluminio cepillado y termina con los elementos de mando, que también permiten sentir el frío metal en cada contacto. Todo lo demás es pura música. Las entradas se visualizan discretamente a través de LEDs individuales, cuyo brillo puede atenuarse en dos niveles para que nada distraiga del seductor brillo del tubo.

Test reviews
What do trade magazines say about this product?
A LOOK THAT WILL LAST FOREVER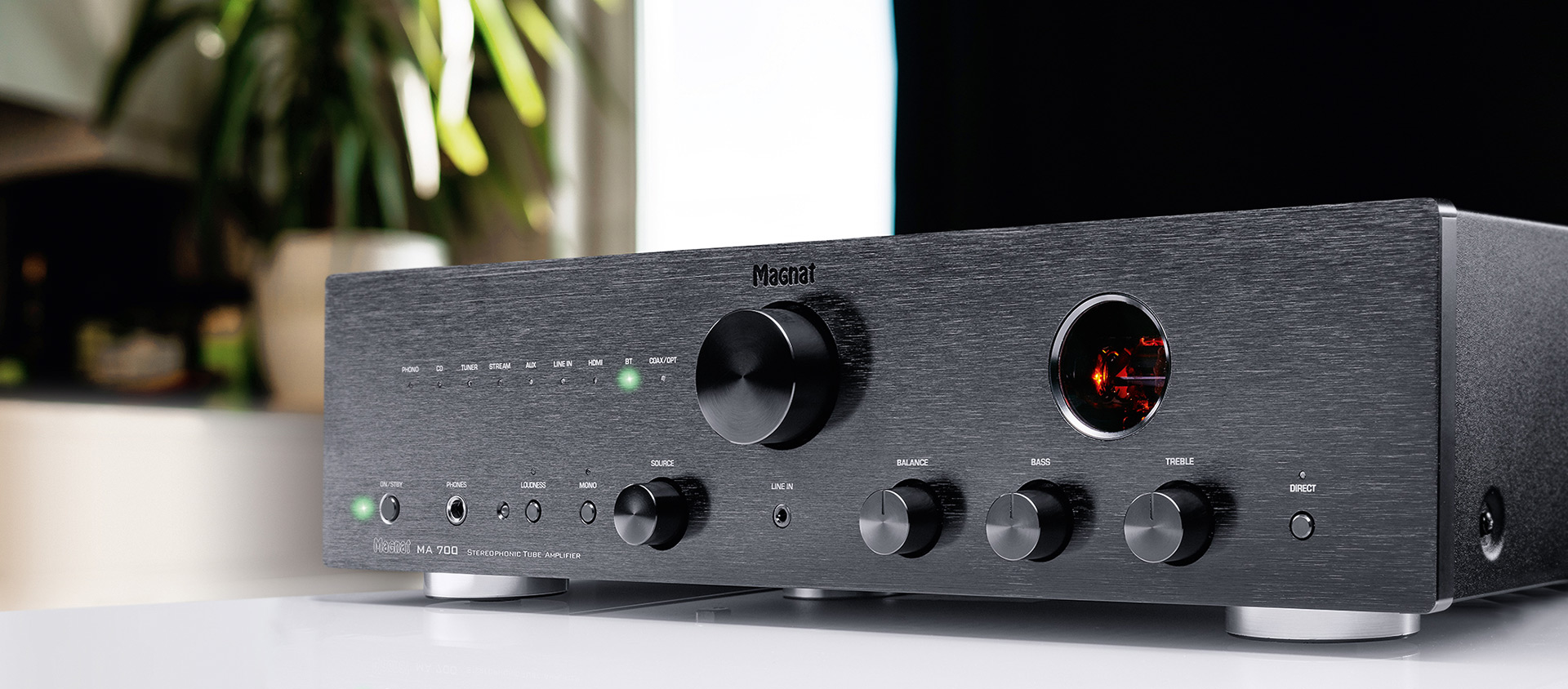 Technical specifications
---
Potencia de entrada
Respuesta de frecuencia
CD/Streamer/Aux/Line 5 Hz – 100 kHz (-3 dB) 20 Hz – 20 kHz (+/- 0,3 dB)
Phono 20 Hz – 20 kHz (+/- 0,8 dB)
Subsonic Filter : 16 Hz, 18 dB/Oct.
Nivel de salida
CD/Tuner/Aux/Line/Tape: 470 mV/100 kΩ
Phono MM: 5 mV/47 kΩ
Entradas digitales
Profundidad de bits admitida: 16/24bits 16/24Bit
Frecuencias de muestreo compatibles: 4.1/48/88.2/96/176.4/192kHz
coaxial (RCA)
óptica (Toslink ™)
Bluetooth® input
Bluetooth® 5.0 / Qualcomm aptX®
Distancia de voltaje sofométrico
CD/Streamer/Aux/Line 102 dB (A), Phono MM 82 dB (A)
Dimensiones (an x al x pr)
Main unit: 433 x 116 x 300 mm
Remote Control: 45 x 175 x 20 mm
Mando a distancia: 45 x 175 x 20 mm
Tinta
Peso
Highlights
---
Paso final y bloque de alimentación
Discrete Class A/B power amplifier
Elaborate mains adapter with separately stabilised supply voltage for the individual circuits
Shielded toroidal transformer
High-capacity filter/electrolytic capacitors
Standby power supply for low power consumption in standby mode < 0,5 watts
Power output: 70 watts of sine power per channel at 4 ohms and 250 watts of maximum pulse power
Bluetooth® input
Bluetooth® 5.0 / Qualcomm aptX®
Generales particularidades
Switchable loudness function (aurally compensated volume correction)
Display of the selected input via LEDs with with dimming function (2 stages)
Speaker terminal with solid, insulated screw terminals that are capable of accommodating large cable cross-sections
Stable feet with damping rubber insert
Solid aluminium controls
Mono switch (for analog sources)
Headphone output with high-quality 6.3 mm jack socket
System remote control for all functions
Sturdy full-metal enclosure with solid, brushed aluminium front
Pre-Amplificador
Preselected and burned-in tubes
Preamplificador MM con amplificadores operacionales de bajo nivel de ruido y filtro subsónico
Record Out fixed level output
Bluetooth® input (5.0) supports the high-end audio standard Qualcomm aptX®
High quality digital-to-analogue converter
Two digital inputs for sampling frequencies up to 192kHz/24bits
HDMI® with ARC and CEC function (volume can be controlled via TV remote control)
High/low tone control, can be switched off via a direct function
Sub out connecting for use of an external active subwoofer
Record Out fixed level output
Low-noise tube preamplifier with ECC 81 tube
Four analogue high-level inputs
Additional 3.5 mm audio input on the front panel for connecting portable devices
Bewertungen
---
Kundenbewertungen für "Stereo High-End Hybrid-Vollverstärker"
Bewertungen werden nach Überprüfung freigeschaltet.