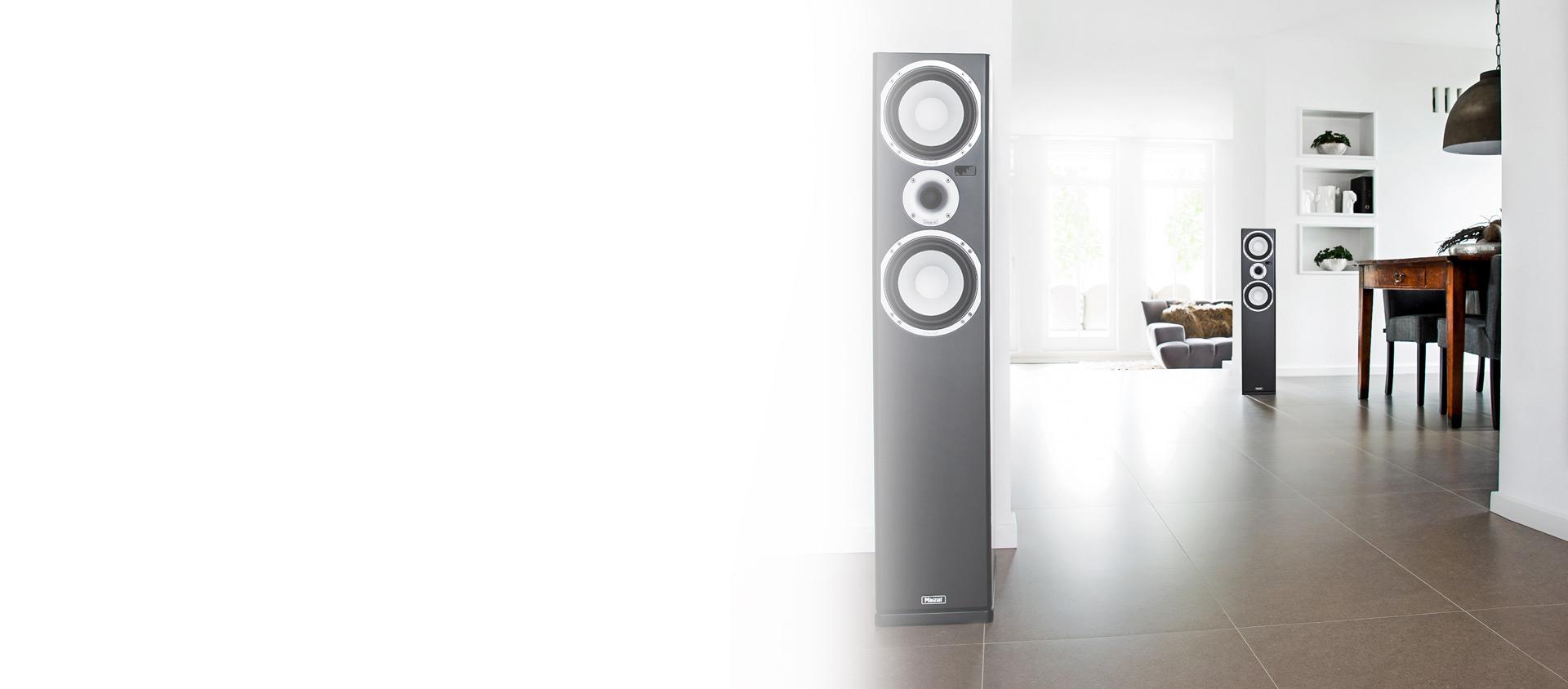 Wireless high-end audio
Los componentes de altavoces estéreo totalmente activos se convierten con ayuda de una unidad de transmisión separada en un sistema de radio resistente a las distorsiones: el resultado es un rendimiento acústico excepcional.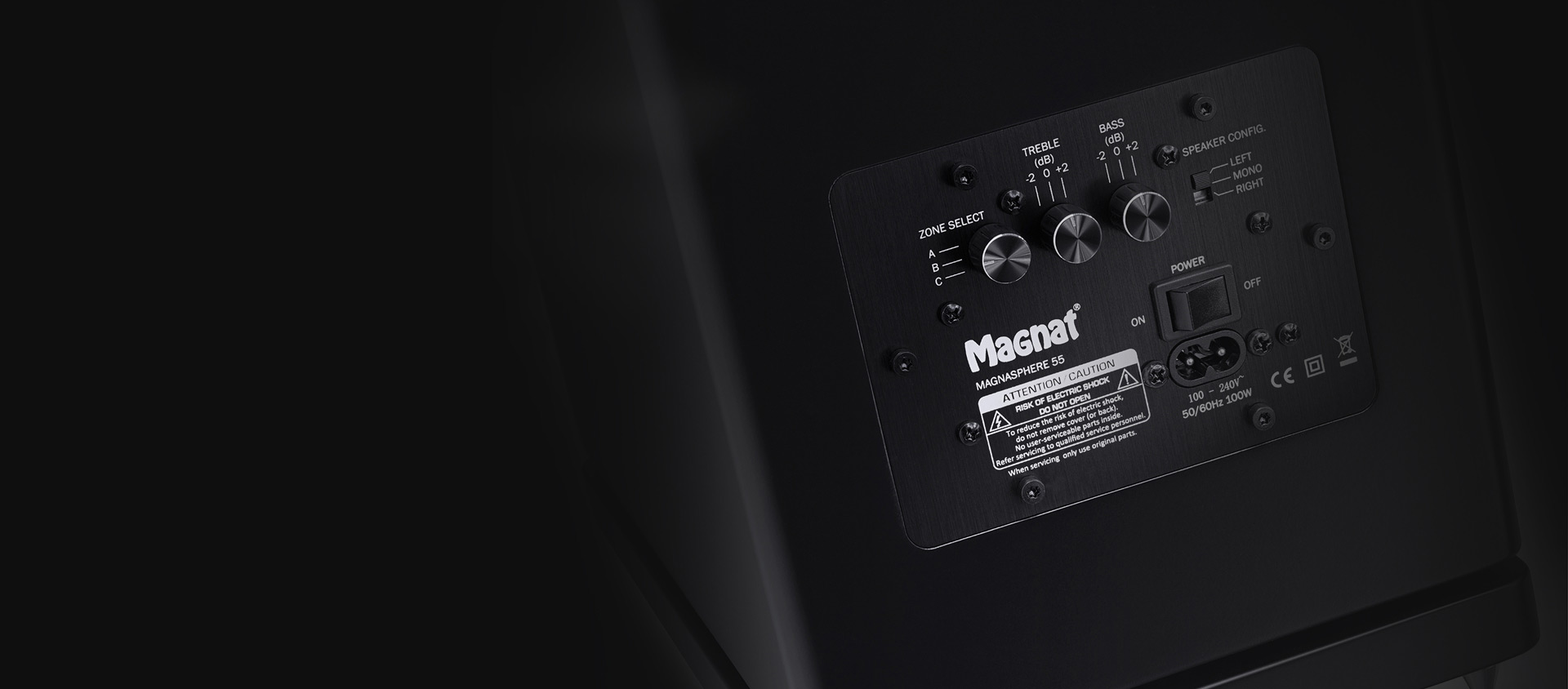 Huge wireless efficiency
The power source in the loudspeakers is in the form of particularly high-performance Class D amplifiers divided into individual modules for the bass, mid-tone and treble ranges to ensure high-precision control. The DSP-controlled digital filter stage allows individual settings for the bass and treble ranges, of course.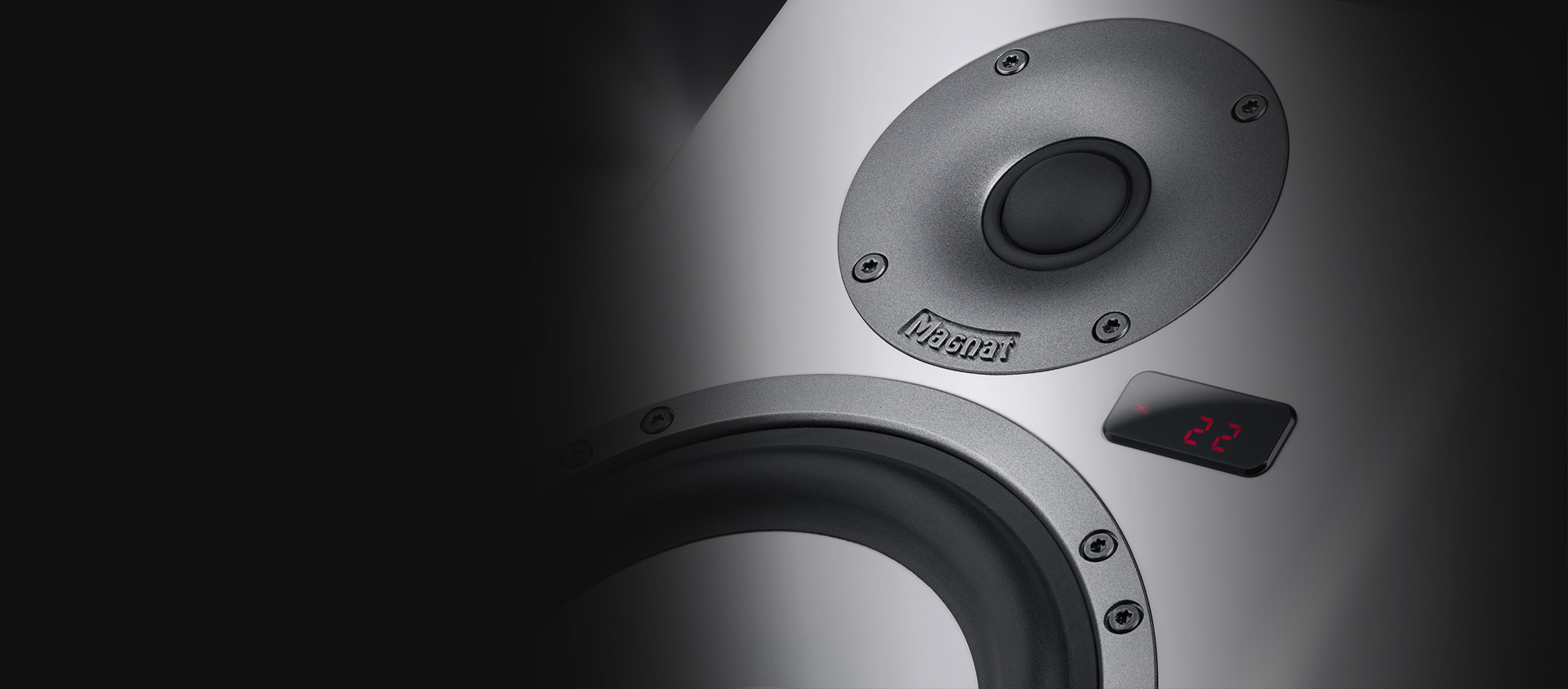 Clear fronts
Magnasphere can be controlled completely using the all-metal remote control provided. A 3-digit LED display is built into the front panel of the MDF enclosure. Magnat´s tried and tested 25 mm fmax tweeter dome has been installed as the high-frequency driver.
Technical specifications
---
Configuración
Reflector de bajos de 2,5 vías, totalmente activo
Componentes
25 mm tweeter
170 mm altavoz de graves/medios
1 x 170 mm altavoz de graves
Resistencia (RMS/Max.)
Potencia de salida
Rendimiento (1 vatio/1 m)
Impedancia
Gama de frecuencias
Frecuencia de separación
Dimensiones (an x al x pr)
Peso
Highlights
---
Application
Chasis
FE Dynamics, altavoz de graves y de graves-medios con membrana de aluminio-cerámica y sistema magnético optimizado respecto a la distorsión
Tweeter "F-Max" con gama de frecuencias ampliada, membrana textil de compuesto dual y accionamiento de neodimio
Cesta de altavoz no magnética y optimizada al flujo de composite de fibra de carbono, con 8 tornillos
Generales particularidades
Elegante diseño de la carcasa con superficies barnizadas en seda-mate
Funcionalidad multizona con hasta 3 zonas de altavoz
Unidad de transmisión compacta con múltiples entradas (2x analógicas, 2x digitales, audio USB, Bluetooth®/Qualcomm® aptX™)
Altavoz totalmente activo con filtrado DSP y tecnología Quantum
Equipo de altavoces High End inalámbricos
Muy resistente a las distorsiones, sistema de radio de fácil alcance
Set estéreo de altavoces de pie totalmente activo con unidad transmisora separada
Caja
Puntas de desacoplo atornilladas para un posicionamiento fijo sobre cualquier superficie
Cubierta frontal extraíble con tela acústica y fijación magnética invisible
Estructura del reflector de bajos con tubo reflector optimizado al flujo en ambos lados
Diseño elegante barnizado en seda-mate negro o blanco y cantos verticales redondeados
Placa base sólida
Carcasa de estructura muy sólida, hecha de paneles de MDF E1
Tinta
Amplificador
Un potente módulo de amplificación de clase D por altavoz con una potencia
Bajos y agudos ajustables (-2dB / 0dB / +2dB) para un ajuste de sonido individual
Visor LED de 7 segmentos y 3 dígitos sobre el frontal del altavoz
Estructura del amplificador totalmente activa (un amplificador por cada altavoz de graves, de graves-medios y tweeter)
Paso de filtro digital controlado por DSP
Bajo consumo de potencia del altavoz en Standby <0,5 vatios
Alimentación de corriente: 100 – 240 V CA 50/60 Hz
Control completo del equipo mediante mando a distancia de metal sólido que se incluye en el envío (incluye pilas)
Tensión de red: 110 – 240V