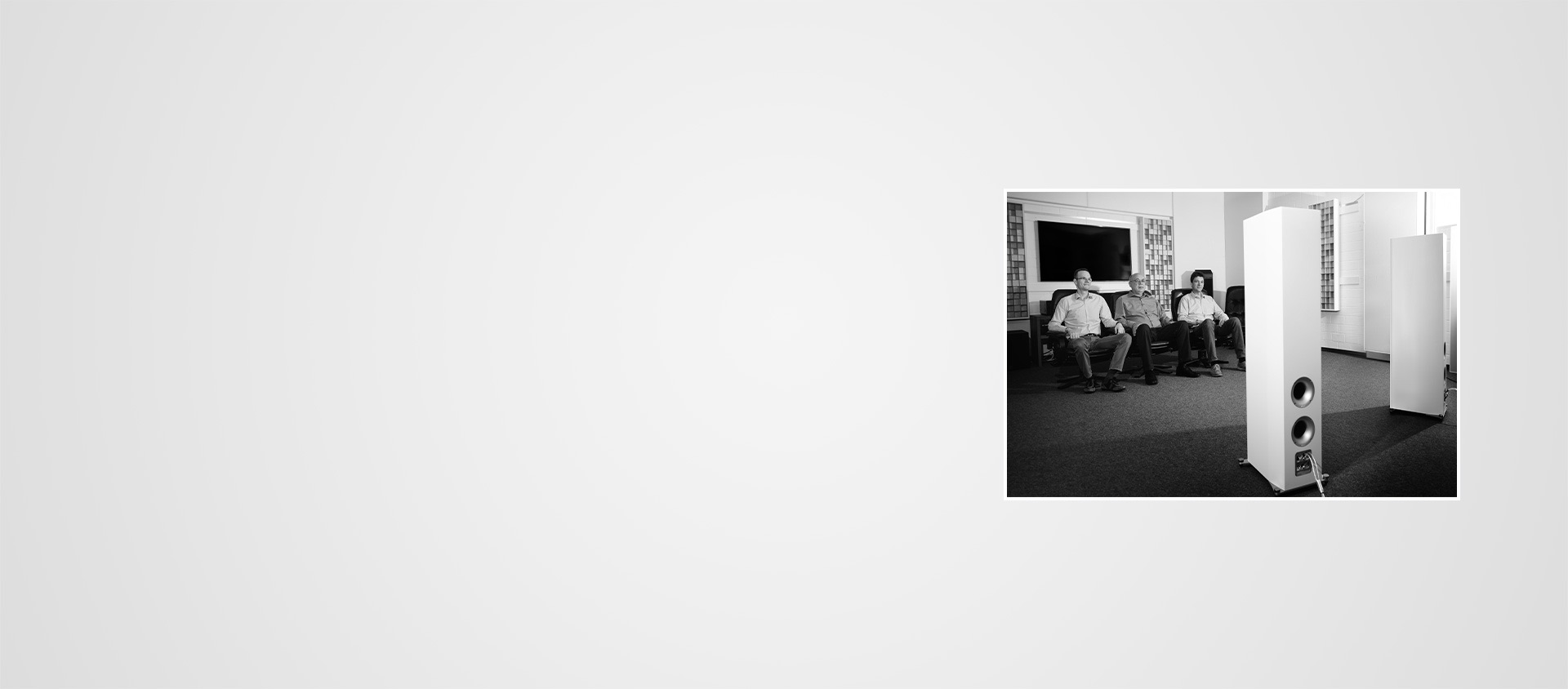 Sound Engineered in Germany
"En el desarrollo de productos de audio se debe llegar a la combinación correcta. Solo la combinación de tecnología de medición, pruebas de audición y experiencia da como resultado un producto que llevará por derecho propio el logotipo Magnat.Naturalmente podríamos comprar nuestros productos en un gran fabricante de productos en serie, realizar un par de adaptaciones cosméticas y colocar el logotipo de Magnat. Pero esto tendría muy poco que ver con la pasión por el sonido perfecto o absolutamente nada con la ciencia. Por eso, desarrollamos todos nuestros productos, desde la serie de altovoces más económica hasta la Quantum Signature y desde el reproductor de CD hasta el amplificador de tubos de gama alta, exclusivamente en nuestra empres."

Martin Gross, Magnat Dovelopment Engineer
Mientras que los altavoces de gama alta naturalmente requieren un mayor trabajo de desarrollo que los productos más básicos, existe un principio del cual no nos apartamos nunca: en Magnat no hay ningún «reciclaje de producto». Esto significa que para cada nueva serie desarrollamos también controladores propios. De este modo, estamos seguros de no hacer ninguna concesión en lo que respecta a sonido y que en cada altavoz todos los componentes, desde la carcasa al material de la membrana del altavoz, están adaptados de forma óptima entre sí. Para ello contamos con el equipamiento de alta tecnología de Klippel, Audio Precision, Brüel & Kjaer o Rohde & Schwarz, para que cada pequeño detalle encaje en el concepto global.
Selección cuidadosa de componentes hasta el pequeño detalle
The Science of Sound, la ciencia del sonido perfecto es nuestro lema y el ámbito de estudios en el que investigamos y ensayamos diariamente nuevos métodos. El resultado: sonido audiófilo sensiblemente mejor que puede escucharse y medirse. Tan pronto como la ciencia nos ha dado las condiciones marco perfectas para un nuevo altavoz, pasamos al desarrollo concreto, es decir, a la ingeniería.Como ya hemos mencionado: la primera parte del desarrollo del altavoz se lleva a cabo por lo general en el tablero de dibujo: en base a principios científicos y a la experiencia. Esta teoría se comprueba a continuación en la práctica por medio de prototipos. Y podemos desvelar algo: la primer versión nunca es perfecta. Nuestros desarrolladores no descansan hasta haber optimizado el nuevo altavoz hasta el punto que suene tal como se habían imaginado y, a veces, incluso mejor.
En Magnat tenemos como fundamento una filosofía muy simple: un buen altavoz es un buen altavoz. Por tal motivo, en nuestra cartera de productos existen tanto productos HiFi como también productos para cine en casa. Se incluye desde el altavoz pasivo clásico hasta el sistema de streaming plenamente activo. También existe una amplia gama de productos electrónicos de alta gama. Quien se centre sobre todo en la reproducción de vibrantes películas de acción, encontrará todo lo necesario en nuestro surtido de cine en casa. Los altavoces audiófilos se centran en la reproducción genuina de música, pero con un aspecto adicional importante: para nuestros altavoces estéreo ofrecemos altavoces traseros y centrales adicionales, así como el subwoofer adecuado para una excelente configuración del cine en casa. No importa por cual se decida el cliente de Magnat, siempre obtendrá un producto absoluto de alta tecnología a la mejor relación precio/rendimiento. Y siempre con la certeza de que ha sido desarrollado por completo en Pulheim (Colonia): solo «Engineered in Germany».