---
MA 700
Stereo high-end hybrid integrated amplifier
Stereo hybrid amplifier with transistor and tube technology
HDMI input for seamless integration of TV and all connected sources
Selected tube already burned-in for the best sound
2 x 70 watts RMS output, 250 watts system output
Extensive connections, digital, analogue and Bluetooth aptX
Sturdy metal housing with solid aluminum front panel and operating elements
Stereo high-end hybrid integrated amplifier
Another product highlight with a combination of tube and transistor technology.
The combination of the best sound and impressive performance goes hand in hand with an impressive variety of connection options. First and foremost, HDMI for seamless integration of the TV set with all its sources.


Performance and sound

With carefully selected ECC 81 tubes already burned in, the MA 700 delivers exactly the sound that connoisseurs appreciate. Thanks to the downstream power transistors, you don't have to do without an impressive output line.

Five analogue high-level inputs, 4 digital inputs plus a phono input for MM systems are the basis for also being able to connect large systems without any difficulty. On top of this, Bluetooth is included with the lossless aptX standard for the best sound from smartphone, tablet or computer.


Magnat MA 700 - HDMI for the full media package

With the constantly growing range of video services, it is also becoming increasingly interesting to reproduce this content in the best possible quality. Thanks to the MA 700's HDMI input, this is easy to do - even the volume can then be adjusted using the TV remote control. And all connected sources, from the games console to the set-top box, can also enjoy the sound capabilities of our hybrid amplifier.


A look that will last forever

What looks like metal here is also actually made from it. It starts with the solid housing and continues with the brushed aluminum front panel and controls, which also allow you feel the cool metal with every touch. And apart from that: pure music. The inputs are discreetly visualised via individual LEDs, the brightness of which can be dimmed in two stages so that nothing distracts from the tempting glow of the tube.

Test reviews
What do trade magazines say about this product?
A LOOK THAT WILL LAST FOREVER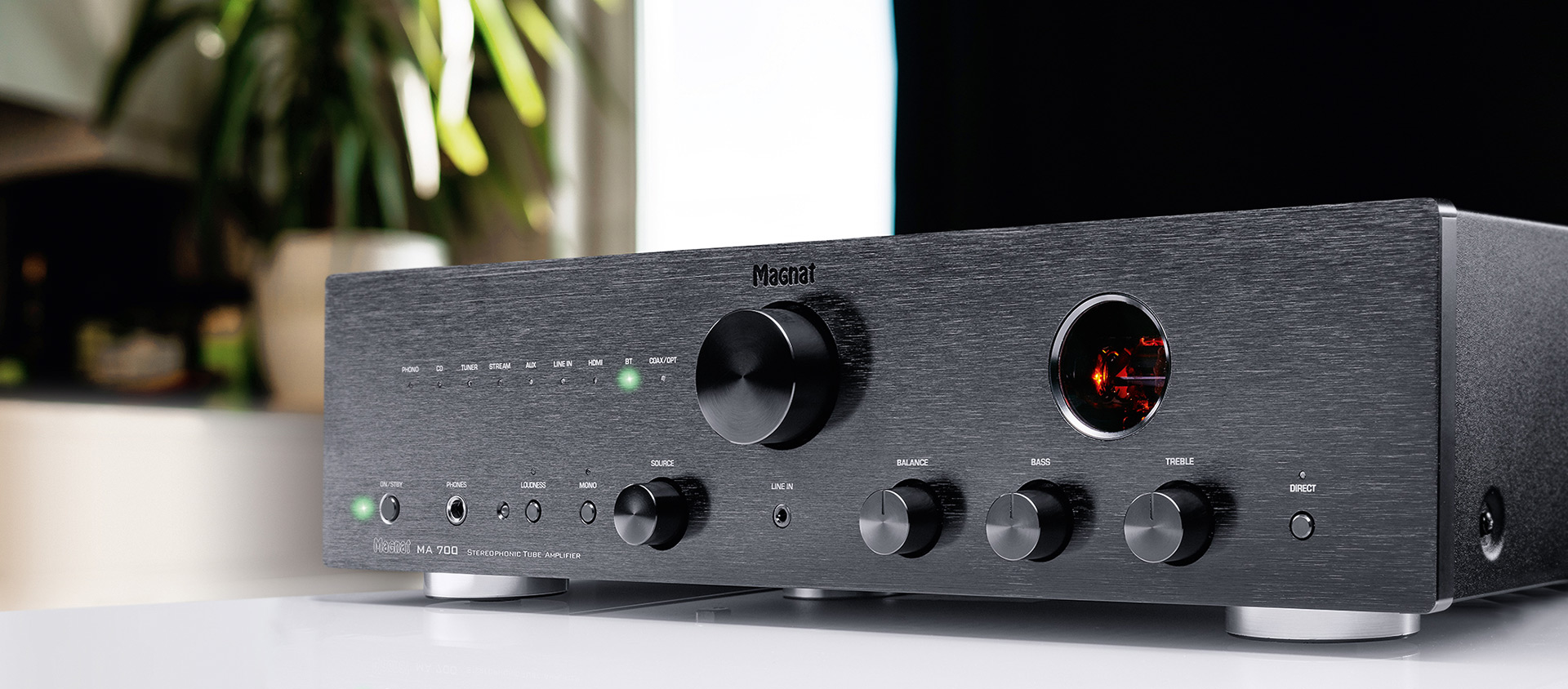 Technical specifications
---
Power consumption
Frequency response
CD/Streamer/Aux/Line 5 Hz – 100 kHz (-3 dB) 20 Hz – 20 kHz (+/- 0,3 dB)
Phono 20 Hz – 20 kHz (+/- 0,8 dB)
Subsonic Filter : 16 Hz, 18 dB/Oct.
Input sensivity
CD/Tuner/Aux/Line/Tape: 470 mV/100 kΩ
Phono MM: 5 mV/47 kΩ
Digital inputs
optical (Toslink™)
Supported sampling frequencies: 44.1/48/88.2/96/176.4/192kHz
Supported bit depth: 16/24bits
coaxial (cinch)
Bluetooth® input
Bluetooth® 5.0 / Qualcomm aptX®
S/N ratio
CD/Streamer/Aux/Line 102 dB (A), Phono MM 82 dB (A)
Dimensions (WxHxD)
Main unit: 433 x 116 x 300 mm
Remote Control: 45 x 175 x 20 mm
Remote Control: 45 x 175 x 20 mm
Color
Weight
Highlights
---
Amplifier and power supply
Elaborate mains adapter with separately stabilised supply voltage for the individual circuits
Discrete Class A/B power amplifier
Shielded toroidal transformer
High-capacity filter/electrolytic capacitors
Standby power supply for low power consumption in standby mode < 0,5 watts
Power output: 70 watts of sine power per channel at 4 ohms and 250 watts of maximum pulse power
Bluetooth® input
Bluetooth® 5.0 / Qualcomm aptX®
Highlights
Sturdy full-metal enclosure with solid, brushed aluminium front
Solid aluminium controls
Speaker terminal with solid, insulated screw terminals that are capable of accommodating large cable cross-sections
Stable feet with damping rubber insert
Headphone output with high-quality 6.3 mm jack socket
Mono switch (for analog sources)
System remote control for all functions
Switchable loudness function (aurally compensated volume correction)
Display of the selected input via LEDs with with dimming function (2 stages)
Preamplifier
Preselected and burned-in tubes
MM-phono preamplifier with low-noise operational amplifiers and subsonic filters
Record Out fixed level output
Record Out fixed level output
High/low tone control, can be switched off via a direct function
Sub out connecting for use of an external active subwoofer
Bluetooth® input (5.0) supports the high-end audio standard Qualcomm aptX®
High quality digital-to-analogue converter
Two digital inputs for sampling frequencies up to 192kHz/24bits
HDMI® with ARC and CEC function (volume can be controlled via TV remote control)
Four analogue high-level inputs
Low-noise tube preamplifier with ECC 81 tube
Additional 3.5 mm audio input on the front panel for connecting portable devices
Evaluations
---
Customer evaluation for "Stereo High-End Hybrid-Vollverstärker"
Evaluations will be activated after verification.