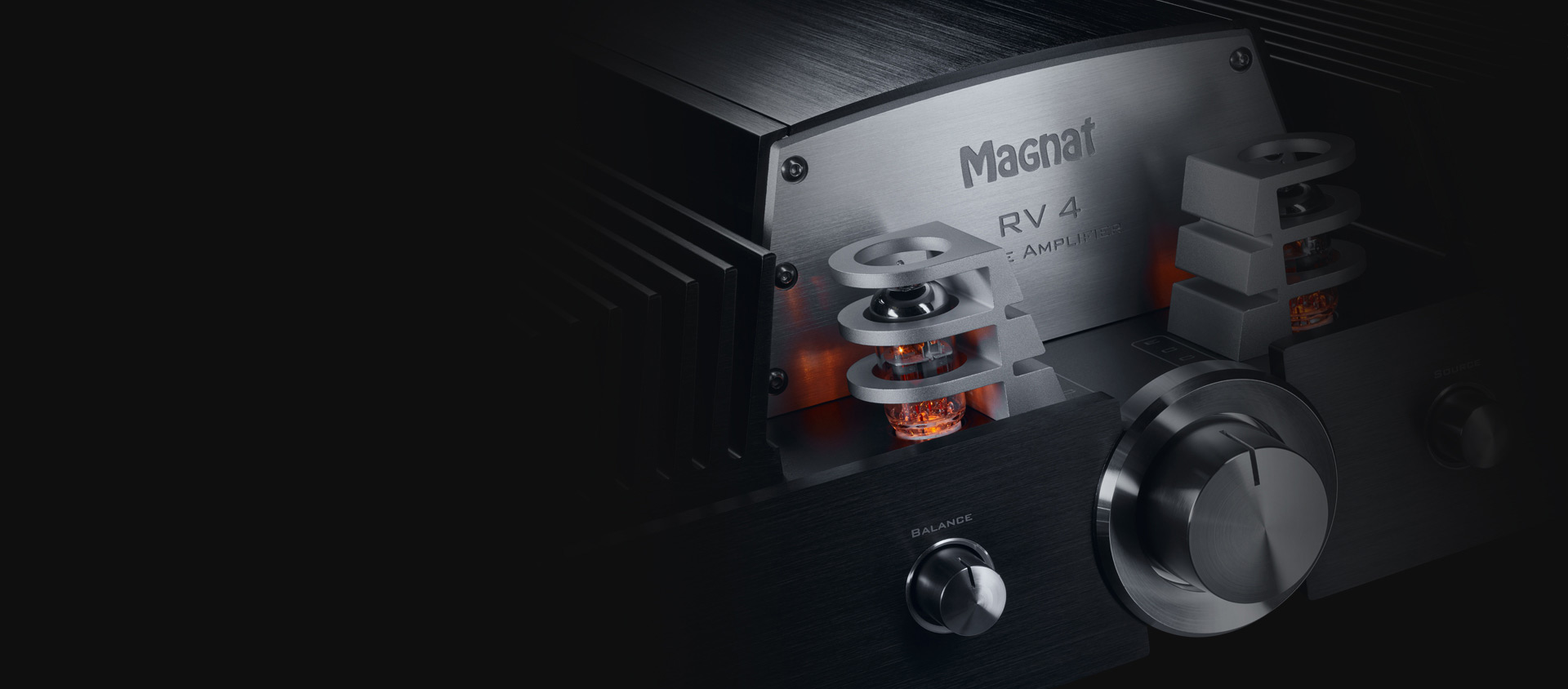 Exceptional hybrid concept
The audiophile heart of the Magnat RV 4 beats loudly and clearly in the pre-amp stage. Two high-quality, specially selected tubes produced in Russia are featured here. In this way, the Magnat engineers guarantee that the RV 4 delivers the warm tube sound so highly regarded among hi-fi fans. The necessary performance, with 150 watts RMS power output, is generated by the power amp with the help of high-quality Japanese transistors manufactured by Sanken.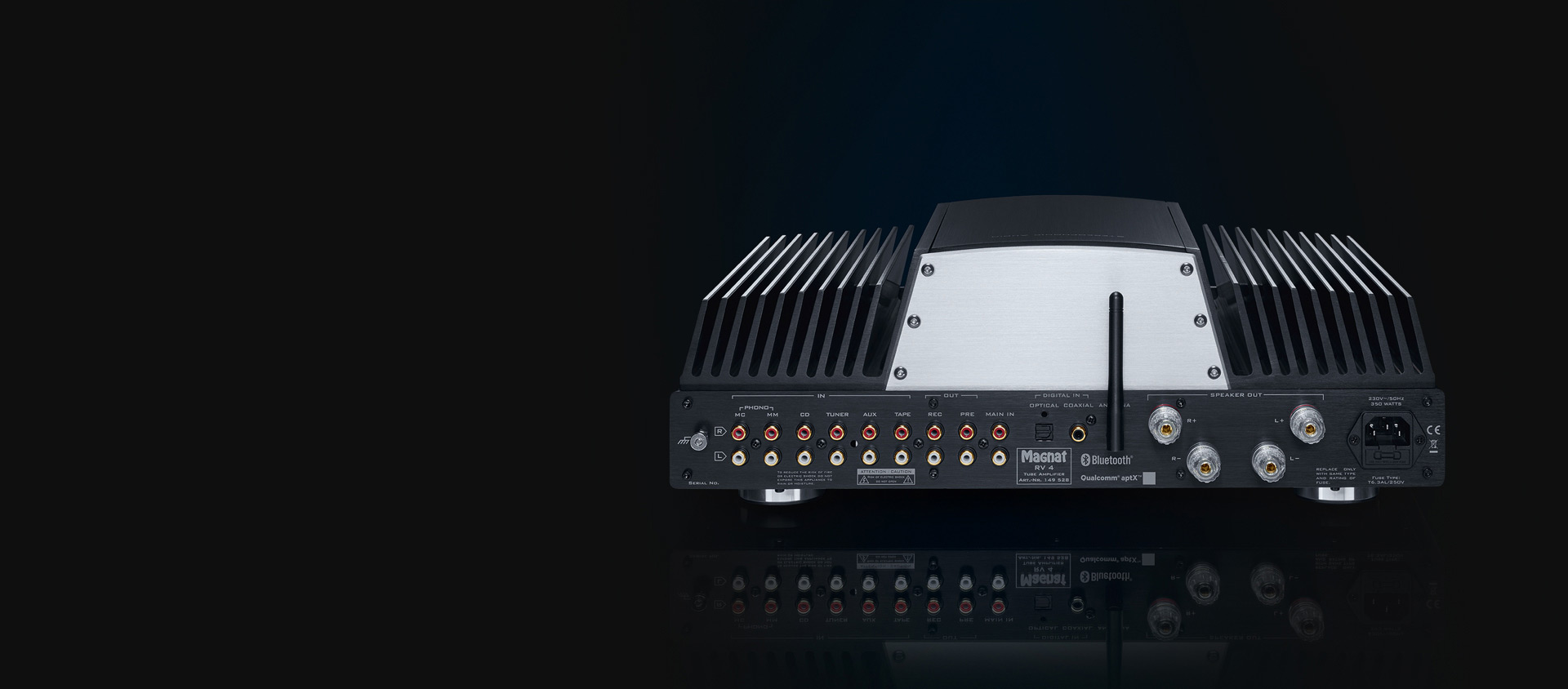 Nostalgia meets wireless
With its wide variety of digital connection possibilities, the RV 4 delights both the purist vinyl enthusiast and the modern streaming fan. The integrated phono pre-amp has separate inputs for MM and MC systems, offering the possibility to enjoy your beloved record collection in the very best quality. But audiophile streaming fans are also catered for on account of the amplifier featuring a particularly high-quality Bluetooth module, including aptX.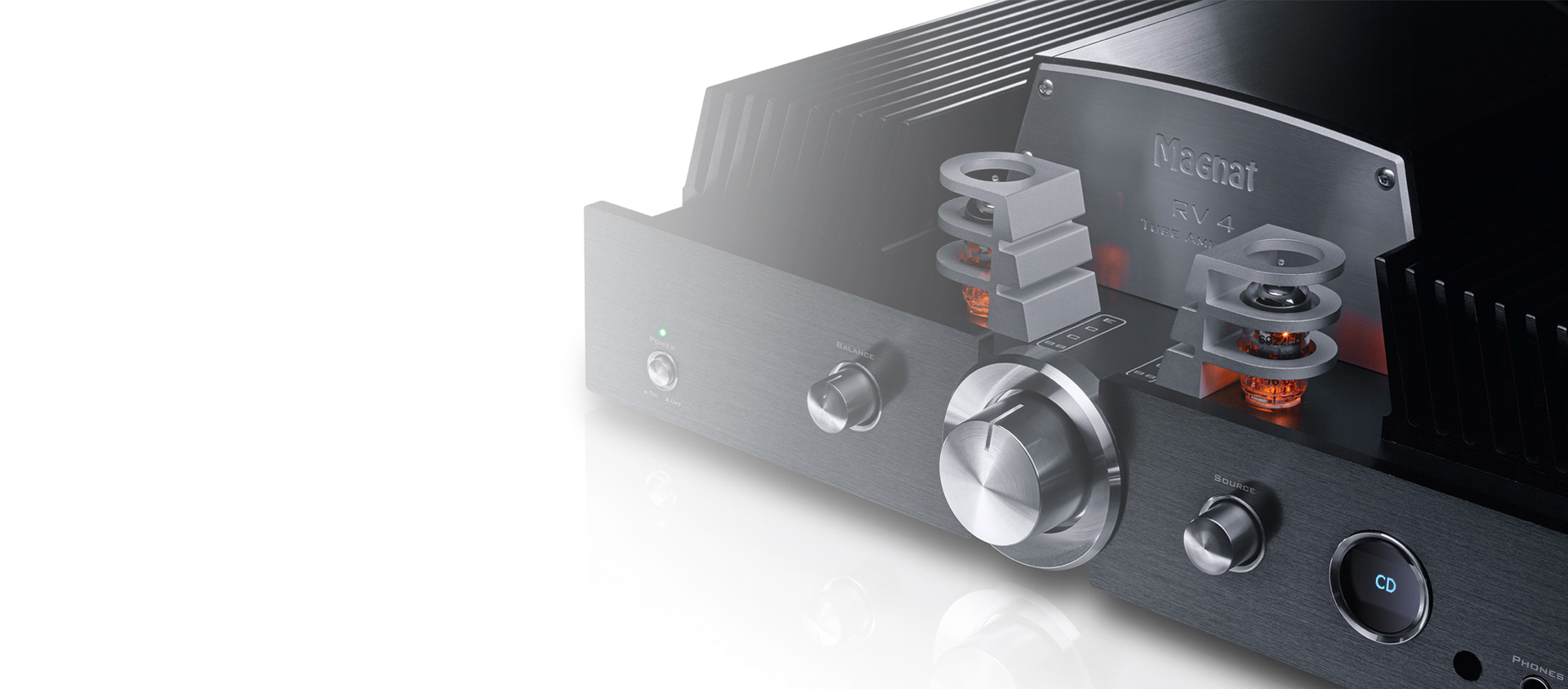 Stylish, distinctive design
The audiophile tubes glow in warm orange, with the heat sink giving the high-end amplifier an individual appearance. The organic LED display provides information about the current volume and source selection status. The overall high-quality impression of the high-end amplifier is rounded off by an all-metal enclosure with an 8 mm front panel and the solid aluminium controls.
Technical specifications
---
Bluetooth® input
Bluetooth® 4.0 / Qualcomm® aptX™
Highlights
---
Bluetooth® input
Bluetooth® 4.0 / Qualcomm® aptX™
Bewertungen
---
Kundenbewertungen für "High-End-Hybrid-Vollverstärker mit Röhrenvorstufe und Bluetooth® mit aptX™"
Von:
Steve Abplanalp
Am:
2022年9月13日
Incredible integrated amplifier
I have had my RV4 for a few years now and enjoy it every day. The sound quality is very impressive, with warm tones, and powerful bass handling. The build quality is high quality. The RV4 is an amplifier to last a lifetime.
Bewertungen werden nach Überprüfung freigeschaltet.