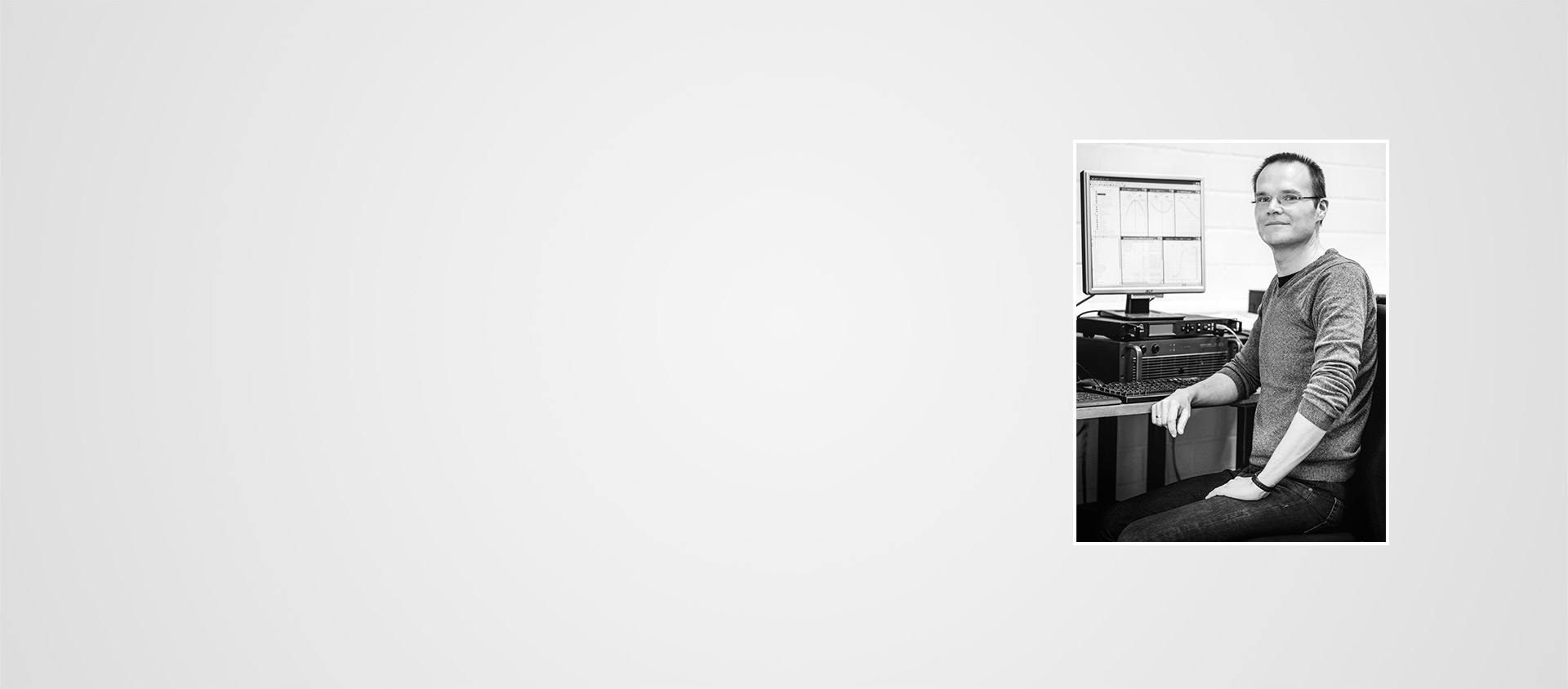 A look at the measuring laboratory
"We apply the very highest standards for the development of our products. It is therefore only logical for us to also use the best tools. The Klippel tool is one of the most complex and detailed measuring systems I know of. Our measuring techniques for electronic products come from Audio Precision and likewise meet the very highest standards."

Christian Gather, Magnat Development Engineer
The right tool in the right hands
The same applies to loudspeaker development as for every creative process: The right blend of talent and experience is irreplaceable. This is why our engineers are often able to get very close to the desired result with the very first prototype: The selection of materials and components for chassis, electronics and enclosures is, for the most part, the result of many years of experience. However, we wouldn´t be Magnat if we were satisfied with merely "getting very close". We want more. We want to deliver the perfect sound in every price category. This is why every single chassis, every transistor and, in principle, every component undergoes an elaborate multi-stage development process before we allow the product to go into mass production. To ensure the end result is one we can rightly be proud of, we make sure that our developers have the best available tools in their hands. These include a Klippel measuring system, high-quality equipment from Audio Precision and a large number of other measuring equipment devices that enable our engineers to conduct a detailed examination of every detail of a product from the very outset
High-end equipment for high-end products
Even the greatest artists in the history of the world could only develop their full potential by using the perfect tools for their craft. For this reason, we have not spared any cost in setting up a laboratory for our audio developers to enable then to achieve the optimum results in every respect. It also includes an analytical tool which has for years been regarded as the standard for precision and professionalism in the development of loudspeakers: The laser-assisted Klippel measuring system. From our economical entry-level ranges to the highest-quality Quantum loudspeakers, all of our chassis are measured and optimised accordingly using this system. For our electronic components, we use equipment from Audio Precision, which also enjoys a reference status among audio experts. Other measuring tools and even a 3D printer are available to our developers at all times for supporting measurements.
Non-contact laser measurement and precise audio feedback
Klippel is laser-assisted measuring system. This not only means extremely precise results; it also has the advantage of enabling the measurements to be carried out in a completely non-contact manner. This prevents unintentional interference by the engineer, and we obtain pure, undistorted results. However, the complex Klippel hardware is only one part of the "magic". The associated measuring software that interprets the results is equally important. In addition, our Klippel equipment produces the most accurate results for the very classic acoustic measurements, which we also carry out, of course, in order to optimise the frequency response and resilience of a chassis, among other things. All of these measurements function with the Klippel system, both at very low volumes as well as in the physical and electrical limit range. Our loudspeakers therefore benefit from the Klippel-assisted optimisations over their entire frequency and performance range. All in all, this enables us to obtain very detailed and accurate results that immediately provide us with useful starting points for further improvements to our loudspeakers. The system facilitates analyses far beyond the usual level, thus dramatically shortening the development process while, at the same time, producing an even better, more optimised loudspeaker at the end.

Development of electronics with Audio Precision for perfect results
The exceptionally precise measuring instruments are among the best tools that an engineer can use for the development of hi-fi electronics. With their help, we meticulously measure our electronic products, from the amplifier to the CD player and the active subwoofer, during every single development stage. Among other things, we test for a linear frequency response, stable performance, the lowest possible level of harmonic distortion and much, much more, Here, too, the results provide us with valuable and very precise starting points for possible improvements to ensure that we can offer our customers a product we can be proud of at the end of the development process.
Broad range of measuring equipment in the Magnat development laboratory
In addition to our core systems from Klippel and Audio Precision, our audio developers can avail themselves of a wide range of precision measuring devices at any time. In this way, we ensure that they have the right tool at hand to precisely analyse every one of our products in order to achieve progress in the development process in a rapid, detailed and sustainable manner. For some time now, the Magnat development laboratory has even had its own 3D printer, with which we can ourselves produce practically every component for our prototypes in just a few hours All of these valuable tools available to our engineers at every stage of the work process help us to complete the development of a new product more quickly and, above all, with a distinctly better end result. Why not give it a try! We´re sure you´ll hear the difference.