High-end speaker as a 3-way bass reflex system. The Quantum Signature accommodates a total of six high-tech individual chassis in a high gloss MDF cabinet, which weighs in at 73 kg.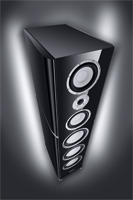 Quantum Signature
Audiophile floorstanding speaker with genuine high-end aspirations
Magnat´s engineers have drawn on the experience gained with the Quantum 1000 series and have once again pulled out all the stops to create an acoustic masterpiece based on Quantum´s tried and tested technology. The Quantum Signature not only towers above all other models in terms of sheer size and mass, but it also represents the new technological spearhead in Magnat´s speaker program.
Impressive stats to really whet the appetite
The Quantum Signature is impressive at first sight due to its sheer size. This first impression promises a lot and is backed up, as expected, by numerous top-class technical innovations. Designed as a 3-way bass reflex system, the speaker accommodates a total of six high-tech individual chassis in a high gloss MDF cabinet, which weighs in at 73 kg. The speaker´s multi-braced, 100 liter housing with double-layered side panels is of a solid construction that rests on exclusively designed solid metal spikes.
An imposing appearance and perfect bass performance

The overall appearance of this exceptional transducer is predominantly shaped by three sumptuous 200 mm woofer chassis. High-strength aluminum/ceramic cones with inverted dust caps generate a thunderous bass line of the highest quality. The low-resonance die-cast aluminum basket ensures uninterrupted operating conditions. Non-conductive Kapton voice coil mounts and the well-ventilated and optimized drive system minimize electrical and mechanical losses and ensure negligible distortion values at maximum levels.


Perfectly coordinated D´Appolito configuration

Thanks to the enhancement of the "Controlled Flexing Cone" the two 170 mm midrange drivers offer ideal properties in the critical vocal range. All of the stops have been pulled out here to reduce distortions to an absolute minimum. The new dome tweeter in the Signature speaker is positioned centrally in a D´Appolito configuration. The computer calculated geometry of the front panel ensures ideal dispersion properties, while a particularly lightweight fabric cone consisting of semi-crystalline polymer ensures a maximum degree of efficiency. In terms of sound this results in an outstanding, harmonious mid/treble range, which is totally free of audible transitions.


A unique sound experience

In sum, the individual parts which have been selected, optimized and developed according to the latest findings generate a sound that is truly impressive. From the deepest bass lines, which the bass trio pumps into the room with the support of two specially coated bass reflex ports, to the perfectly clean fundamental tone and the extremely precise midrange of the ´controlled flexing cones´, right up to the fine resolution and impulsive treble generated by the special tweeter - the Quantum Signature has everything. Thanks to its enormous reserves in all frequency ranges and outstanding low-distortion properties, the speaker operates in a relaxed manner that only a few transducers are able to deliver.


Sound and technology in perfection

High-end tweeter

Precise and light
More control in the mid-tone range
High-end frequency crossover
Less flow noise
Optimum cooling during operation