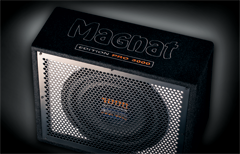 Edition Pro 3000
Closed enclosure subwoofer with 30 cm cone

No compromises! The Edition Pro 3000 really puts the integrated high-performance driver with a diameter of all of 30 cm in the limelight right at the front of the enclosure. The closed enclosure is specially optimized for hugely powerful low bass ranges, though also with the lowest resonances. Despite the powerful performance, the subwoofer hardly takes up any space in the car thanks to its shallow depth and slanted shape.


Bass power through size and technology

A lot of air has to be moved around for huge bass tirades and small cone surface areas have lost out a bit in this acoustic reproduction segment. The Magnat engineers are well aware of this and have therefore opted to work with a huge 30 cm high-performance driver in the Edition Pro 3000. At the same time, however, pure size is not everything. To ensure that the woofer can also function effectively, pole core ventilation has been incorporated. The drive is completed by a 2" high-powered voice coil. The result of all the elements working together in perfect harmony: A hugely powerful, very voluminous and equally precise bass range.


Efficiency is the king

High efficiency is crucial, especially in the car audio sector where inexhaustible power reserves are not available. The Edition Pro 3000 is therefore equipped with an efficiency-optimized foam surround. The combination with the coated cellulose cone of the 30 cm woofer guarantees the development of an exceptionally high performance potential with, at the same time, a generous range relating to the amplifier used.


Design and practicality go hand in hand

The Edition Pro 3000 bears its name with pride. The design logo stick is shown off on the non-slip covering material of the subwoofer not just on the 30 cm cone itself but also on the top of the unit. The subwoofer hardly takes up any load space in the trunk thanks to its shallow depth and slanted shape and can even be placed behind the seat. The front of the enclosure, including the speaker chassis, is securely protected by the stable metal loudspeaker grille, with the high quality screw terminal located at the back.


Laser-optimised by the Klippel measuring system

Low-resonance, torsionally rigid steel basket

Solid connecting terminal

High performance voice coil
Lightweight foam surround for max. efficiency