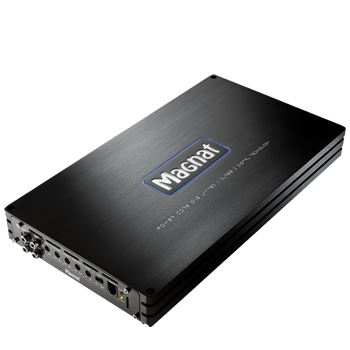 Power Core One Limited
High efficiency digital subwoofer amplifier
The Power Core One Limited is a digital subwoofer amplifier that fulfils the highest performance requirements. The Power Core One Limited delivers a maximum output of 2500 watts at 1 ohm. Even when operated at a demanding 4 ohms it still manages to produce a whopping 1200 watts of power. To ensure good heat dissipation, which is essential in such a high performance device, the One Limited has been equipped with an active fan in addition to a double-sided copper-coated PCB. The phase can be continuously adjusted between 0 and 180 degrees, while a remote control is supplied for controlling the volume. The 41 mm slimline aluminium heat sink is very narrow and an illuminated Magnat logo is accommodated on the elegant hairline surface. The model name is engraved on the device.
Full-Feature XO
Variable bass boost 0...12 dB bei 45 Hz
Variable low pass 40 – 300 Hz (12 dB per octave
Variable subsonic filter 15 – 40 Hz (12 dB per octave)
Amplifier unit
Stable at 1 ohm
Master/slave operation
Continuously variable phase control, 0 to 180 degrees
Encapsulated potentiometers
Protective circuit to prevent short circuits, DC-offset and overheating.
Active cooling with fan for optimum heat dissipation
Double-sided copper-coated printed circuit-board
Power supply unit with low-impedance electrolytic capacitors
Cabinet
Elegant hairline finish
Slimline designer aluminium heat sink with engraved model designation
Connections
Encapsulated power and loudspeaker terminals
Highlights
Power indicator (green LED) and overload indicator (red LED)

LED-lit Magnat logo badge
Digital subwoofer amplifier with high levels of efficiency
Remote control for volume
Max. power output into 4 ohms ,
14.4V (sine burst 2:8, 1 kHz)
2500 W
Max. power output into 2 ohms,
14.4 V (sine burst 2:8, 1 kHz)
1500 W
Max. power output into 4 ohms,
14.4 V (sine burst 2:8, 1 kHz)
1200 W
RMS power output into 4 ohms, 14.4V
(DIN 45 324)
1250 W
RMS power output into 2 ohms, 14.4V
(DIN 45 324)
750 W
RMS power output into 4 ohms, 14.4V
(DIN 45 324)
600 W
Frequency response
5 Hz – 150 Hz (-3 dB)
Signal-to-noise ratio (A-weighted)
> 100 dB
Input sensivity
0.2 – 6 V
Supply voltage
12 V negative ground
Dimensions (WxHxD)
382 x 41 x 198 mm