"One chassis is simply not enough!" We express our agreement with this sentiment by introducing the Edition BR 230 bass-reflex subwoofer. With two 30 cm high-performance drivers equipped with an efficiency-optimised foam surround working hard to produce potent sound and full power.


The closed design of the Edition BS 30 subwoofer´s case is available not only in black but also in the trend colour of white. The maximum power input of 800 watts makes this subwoofer the highlight of the Edition series.

The TR 30 is the powerful bass-reflex tube in the Edition´s range of products. A 30 cm high-performance driver in a low-resonance steel basket is responsible for enormous depth. The non-slip cover in blue has been embroidered with a two-colour logo design.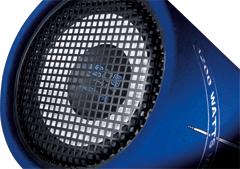 Edition Subwoofer
Varied subwoofer series for all requirements

The Edition series has the right subwoofer to suit all requirement profiles. Be it bandpass in an attractive look, bass-reflex tube or dual-bass design – there´s something for everyone here. There´s also a closed system – even in white if required.
It´s the variety that does it

The Edition series allows users to select the subwoofer that´s perfect for their needs. The Edition BP 30 is a bandpass subwoofer with voice-coil ventilation that has been designed for extreme power and, thanks to its blue LED light and acrylic-glass pane, it also looks good.


As a closed system, the Edition BS 30 delivers a particularly dry and precise bass, it´s also available in black and in white. The Edition BR 230 bass reflex subwoofer comes with two of the 30 cm high-performance drivers and the TR 30 is the bass-reflex tube in the Edition series.


More than enough performance – in many ways


All subwoofers in the Edition series use a high-performance driver with a diameter of 30 cm, which is responsible for an extremely powerful and voluminous bass. The glass-fibre polypropylene cone means that the Edition BP 30 is able to deliver excellent precision. The hole drilled into the pole core for optimum heat dissipation, high-performance voice coil and low-resonance steel basket are characteristic of the entire Edition series. The Edition BR 230 even employs two of the 30 cm drivers.





Select components for a coherent overall concept


An optimised foam surround and a coated paper cone are responsible for optimum levels of efficiency in the Edition series (not in the Edition BP 30). The combination of pole-core ventilation and a robust steel basket delivers a powerful bass without annoying interference. Thanks to special bass-reflex openings, flow noises have been largely eliminated in the base-reflex designs. All have the non-slip fabric cover with the embroidered two-colour designer logo in common.


3D Magnat lettering as embroidered logo

Blue LED lighting for a cool visual appearance

Flow-optimised bass reflex opening

Low-resonance, torsionally rigid steel basket

Solid connecting terminal

Low vibration polypropylene cone

Flexible rubber surround for max. cone throw