Meaty sound at an excellent price-performance ratio. The Racer 320 sound transducers feature extreme load-bearing capacities and high sound pressure while the lightness of the coated paper cone is responsible for excellent levels of efficiency. A PTC protective element stands guard over the mid-range and tweeter speakers.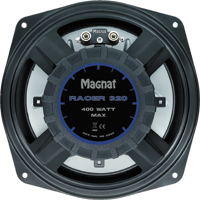 Racer 320
"Racing-fast" quick response behaviour and pure power
The Racer 320 sound transducer responds extremely rapidly to impulses and acts quickly and accurately even when power requirements are high thanks to the extremely lightweight cone. Thanks to its high resilience, it is extremely efficient and delivers rich and powerful sound in cars
No fear of overloads thanks to PTC elements
The Racer 320 sound transducer´s mid-range and treble unit is safeguarded by a PTC protective element. This element is made up of resistors that intervene in the event of excess currents. The temperature will start to increase when the rated current has been exceeded, which means that the PTC element´s internal resistance will also increase thus automatically reducing the flow of current. The intelligent thing about the PTC protective element is that – in contrast to normal fuses – the resistance is automatically reduced after triggering so that the driver may continue to be used without problem.
Select materials for optimum efficiency

In order to ensure that optimum levels of efficiency are achieved, Magnat´s engineers use select components and materials. The woofer works with a coated paper cone. This results in a sufficiently lightweight while simultaneously quite stiff cone that tends towards hardly any partial vibrations. The triaxial system´s treble and mid-range unit uses a titanium-coated polycarbonate cone.


Powerful drive for high performance

The three-away triaxial system with integrated crossover is driven by a very powerful magnet, which has also been additionally covered. Silver-plated screw terminals guarantee stable signal transmissions.

Solid rubber ring protects the magnet

Ultra-light, coated paper cone

Low-resonance, torsionally rigid steel basket

Solid connecting terminal

Powerful drive thanks to a high-power magnet system